Agricultural Appointment
Governor Names Howard Wang to Serve On Agricultural Board
October 28, 2008
By Mimi Ko Cruz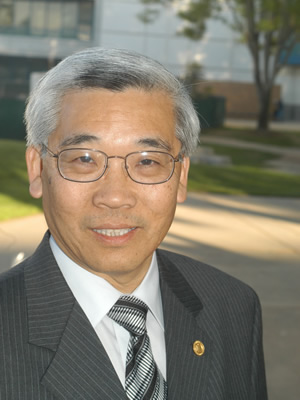 Howard Wang
Gov. Arnold Schwarzenegger has appointed Howard Wang, associate vice president for student affairs and executive director of the Student Health and Counseling Center at Cal State Fullerton, to the 48th District Agricultural Association Board of Directors.
"I am excited about working with school district teachers and students to enhance their learning about the importance of agriculture as related to the food they eat, nutrition and health," Wang said.
His first board meeting is scheduled for Nov. 25 at Mt. San Antonio College. Wang's appointment is voluntary. He will not be paid for his service.
The 48th District Agricultural Association is a state entity within the Division of Fairs and Expositions, which is part of the California Department of Food and Agriculture. Funding for the district — one of 78 districts in the state — is derived from money wagered on horse races across the state and from private funding. The 48th district encompasses Los Angeles County.
The association helps elementary and secondary teachers teach agriculture in their classrooms. It offers reference and children's books, videos and project kits that stress hands-on activities, such as hatching chicks or trout, gardening and hydroponics. Teachers are not charged for services or materials, but are expected to have their students demonstrate what they learn at the association's annual spring agricultural fair in Pomona.
Wang, of Walnut, has served as associate vice president for student affairs at Cal State Fullerton since 2003. Before joining the campus, he was the assistant vice president for student affairs at Cal State San Bernardino and executive officer for UCLA's Division of Student Development and health, as well director of administrative services UCLA's Student Health Service.
He is a member of the Community Resource Council of the U.S. Environmental Protection Agency's Fish Contamination Education Cooperative, the Asian Business Association of Orange County and its corporate advisory board, the Organization of Chinese Americans — Orange County Chapter Board of Directors, the Chinese American Association of Walnut and the greater Los Angeles chapter of the Organization of Chinese Americans.
Wang holds a doctorate and master's in higher education administration from UCLA. He also has a master's degree in clinical microbiology from the University of Wisconsin, Madison.