From Static to Interactive
Classrooms Equipped with Computerized Boards Give Future Teachers High-Tech Edge
December 9, 2008
By Debra Cano Ramos
Gone are the erasers and chalk.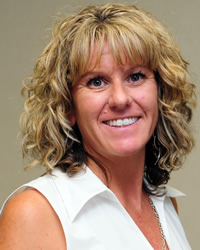 Loretta Donovan, assistant professor of elementary and bilingual education, whose teaching interests include educational technology, is involved in training students to use Internet-connected "interactive whiteboards" — installed in classrooms this fall by the College of Education. Photo by Kelly Lacefield
On a recent fall day, Loretta Donovan, assistant professor of elementary and bilingual education, showed her credential students how to use the blackboards of the 21st century: Internet-connected interactive whiteboards — the latest technology for teachers.
The computerized boards are popping up in classrooms locally, nationally and globally, giving teachers high-tech tools to better engage students in learning.
This semester, the College of Education installed nine interactive whiteboards, developed by United Kingdom-based Promethean, in classrooms for use by credential students and faculty members. The college used state lottery funds to buy and install the boards.
"In the K-12 classrooms of today, teachers need to know how to use them, and now, our teacher preparation students will be ahead of the curve and be leaders in this new technology," said Donovan, who teaches in the elementary credential and master of science in education programs, focusing on educational technology.
More K-12 schools are using touch-screen boards as a tool to enhance learning opportunities and teaching strategies, explained Carmen Zuniga Dunlap, associate dean of the College of Education.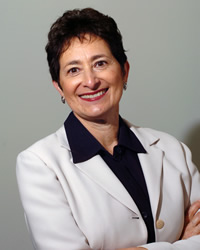 Carmen Zuniga Dunlap
The boards, connected to a computer and projector, let teachers and students turn classroom learning into digital lessons. Teachers can access the digital world to give lessons and tests. They have access to myriad software, can surf the Internet, use audio and video, and save a lesson for future use.
For example, a teacher can electronically transport the class to an archeological dig across the world in Egypt or enlarge a map for a lesson on world history using sound and visual images.
"What you can do with these is limitless. The boards put teaching and learning on a whole different level. It's mind-boggling. There's just no way kids can be bored in class," Zuniga Dunlap said. "The imagination's the limit."
Studies are showing that the use of educational technology, such as interactive whiteboards, can have a positive impact on student learning, Zuniga Dunlap said. Moreover, the college is providing training to faculty members who want to learn how to use the technology in the classroom.
"We thought these boards would be a good investment for our own faculty and our credential students who will be using these in their own classrooms," Zuniga Dunlap added. "If the college is going to continue to be on the cutting-edge of teacher preparation, we need to ensure that we're preparing our teacher candidates to be educational technology leaders in their schools."
Credential students Heather Schumpert and Jill Taloa are among future teachers learning how to use the newfangled technology. With a special high-tech marker in hand, both recently worked on a math lesson using an interactive board. They agreed it was better to learn about giving interactive lessons in the college classroom then on the job in a classroom full of children growing up with technology.
"It's nice to be able to learn now with your peers, so when I start teaching, I won't be as apprehensive — and I'll be ready to teach," Schumpert said.
Taloa added that using the interactive whiteboard in her credential class will give her and her classmates the competitive edge. "By having this knowledge of the latest technology, it will help us get a teaching job."