Hearst Hails Hector
Student Overcomes Odds, Wins Hearst/CSU Trustees' Award for Outstanding Achievement
September 15, 2008
By Mimi Ko Cruz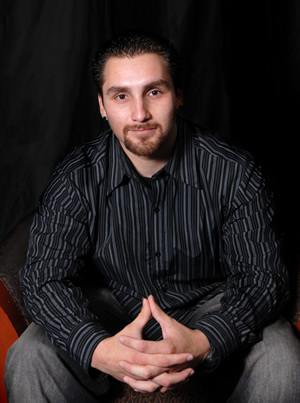 Hector Ramos is this year's Trustee Ali C. Razi Scholar of the William Randolph Hearst/CSU Trustees' Award for Outstanding Achievement. Photo by Kelly Lacefield
Hector Ramos was the first in his family to graduate from high school and attend college. By next summer, he plans to have completed a Cal State Fullerton bachelor's degree in three majors — philosophy, psychology and political science.
As a child, Ramos wasn't expected and didn't have aspirations to reach for such goals. His mother, an immigrant from Mexico, usually worked two jobs while raising Ramos and his two younger brothers. Before she became a naturalized citizen, she often went unpaid after fleeing from her garment factory jobs because of immigration raids. The family was poor and lived in overcrowded apartments in a part of Orange where gangs, crime and drugs were neighborhood staples.
But Ramos liked to learn, and though he sometimes ditched his classes to party with his friends, and his grades fluctuated wildly, he managed to get into honors classes. It was a middle school English teacher's words that compelled him to get serious about school.
"She told me: 'You are the smartest student I've ever taught. You need to push yourself and try because you have so much potential,'" Ramos said. "When somebody cares, it really changes the picture. One person can make a difference."
In high school, another English teacher encouraged Ramos to start thinking about higher education.
"College was never on my agenda," he said. "I was blessed to have awesome teachers who truly believed in me. They told me I could be anything I wanted, and I believed them."
On Sept. 16, Ramos will receive the William Randolph Hearst/CSU Trustees' Award for Outstanding Achievement. He was selected for the prestigious award, which includes a $10,000 scholarship, for his "superior academic performance and exemplary personal accomplishments."
Ramos, 22, said education has been the key to beating the odds. Studies have shown that the poor in America are less likely to get college degrees. In 2003, 8.6 percent of the nation's poorest young adults earned bachelor's degrees by age 24, according to Postsecondary Education Opportunity, a higher education research group.
"Because of our living conditions, many of my family members turned to drug abuse or crime to cope with the stresses and dangers of life," Ramos said. "My brother is in jail. I consider myself very lucky. My education provided me a chance to escape the chaos that destroyed others. I focus all my energy and frustration into my schoolwork."
His efforts have earned him high marks and a 3.8 grade point average.
In her letter of recommendation for Ramos, Heather D. Battaly, associate professor of philosophy, wrote: "I am certain that Hector will not only attend law school, but become a superb attorney. Lawyers with integrity, deep-seated passion and courage are desperately needed.
"Hector possesses an indefatigable passion for learning," Battaly added. "The joy that Hector finds in intellectual inquiry, and his wonder and curiosity are unmatched. Hector overcomes challenges with such enthusiasm, integrity and courage that they cease to appear challenging. As teachers, we are often proud of our students; but we rarely admire their character. I admire Hector."
Ramos is no stranger to awards and accolades. He has been the recipient of the Horatio Alger National Scholarship Award and a UCLA Law Fellowship, and is a California Governor's Scholar.
While studying full time, Ramos also works as a teaching assistant on campus and as a clerk in a local video store. In addition, he serves as a volunteer, donates blood and visits the elderly in a home for Alzheimer's patients.
"I have something against being defenseless," Ramos said, adding that is why he wants to become a lawyer. "There is much more I could be doing to help. Once I become a lawyer, I will be able to make an even greater difference in the community."