Athletes Score in the Classroom
Titan Gymnasts Rank Sixth in Nation Academically
Aug. 7, 2008
From Sports Information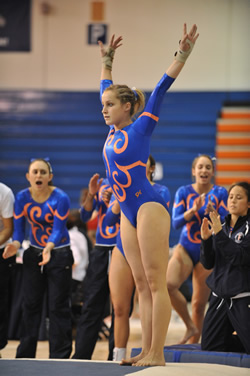 Jessica Merriam had a perfect 4.0 grade point average to lead the Titans' gymnastics team to a sixth-place national ranking this year. Photo by Matt Brown
Cal State Fullerton women's gymnastics placed sixth in the nation in the 2007-08 academic standings compiled by the National Association of Collegiate Gymnastics Coaches.
The Titans' combined grade point average for the year was 3.5867, led by Jessica Merriam with a perfect 4.00. Southeast Missouri State finished at No. 1 at 3.82, followed by Winona State, Southern Utah, Michigan State, Ithaca and then Fullerton.
"I am very proud of the girls," said Head Coach Jill Hicks. "Three years ago when I got here, the Titans' gymnastics team was not in the top 50. They have made quite a jump."
Complete team and individual standings are posted on the Titans' athletic website at www.fullertontitans.com.