Volunteers Wanted
Subjects Sought for Fibromyalgia Study
October 28, 2008
By Mimi Ko Cruz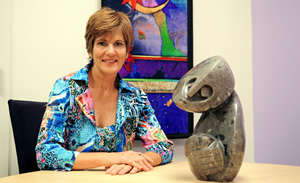 C. Jessie Jones. Photo by Kelly Lacefield
Volunteers aged 50 and older are being sought to participate in a study on fibromyalgia, a chronic pain syndrome.
C. Jessie Jones, professor of health science, director of Cal State Fullerton's Fibromyalgia Research and Education Center and co-director of the university's Center for Successful Aging, said 100 people who have fibromyalgia and 100 who do not are being recruited for the study that she is directing.
Deadline to sign up for the study is Nov. 16. Call 657-278-7031 to participate.
"This project is attempting to better understand factors that are associated with changes in the mental and physical status of people with fibromyalgia aged 50 and older so we can provide effective programs to help people manage their symptoms and reduce loss of brain and physical function," said Jones, who has fibromyalgia herself.
The purpose is to "determine if there is a difference in the physical and cognitive status of older adults with and without fibromyalgia," she said.
She added that the study's results could help guide clinical interventions to improve brain function.
Seven Cal State Fullerton faculty members and 35 students, gerontology, health science, nursing, kinesiology and psychology majors, are assisting with the study.
Volunteer participants will take part in two appointments that will provide them personalized reports on their mental and physical status. The first appointment will be an hour long and the second, two hours long. Both will be held at the Fibromyalgia Research and Education Center on campus.
Those who will not qualify for the study are people who have been advised by a physician not to exercise; have experienced congestive heart failure; have chest pain, dizziness, or pain in chest during exercise; have uncontrolled high blood pressure; are unable to walk for 6 minutes without assistance; or have a low score on dementia screening.
More than 75 million Americans suffer from pain.
"However, the undertreatment of pain is a major public health issue complicated by misuse, abuse and diversion of prescriptive medications," Jones said. "One of the most common pain disorders is fibromyalgia. In fact, it is at least three times more common than rheumatoid arthritis."
Studies show that 150,000 Orange County residents — 90 percent women — have fibromyalgia.
Besides chronic pain, common systems of fibromyalgia include sleep disturbance, fatigue, stiffness, cognitive problems and mood disorders.