Fostering Civic Engagement
Report Provides Insight Into Orange County Asian American Voters
October 14, 2008
By Mimi Ko Cruz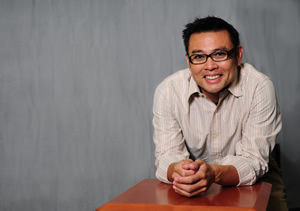 Eric E. Reyes has produced a report on Orange County's Asian American voters. Photo by Kelly Lacefield
A new study focusing on the civic engagement experiences of voters from the Chinese, Korean and Vietnamese American communities in Orange County shows that reaching them requires a fostering of trust, among other things.
The report's author, Eric E. Reyes, assistant professor of Asian American studies, said the purpose of his study was to "provide local public policy makers and community members with insights into the state of civic engagement by Asian Americans in Orange County."
As part of his research, Reyes examined studies that analyzed the November 2006 general election and the voter participation of Chinese, Korean and Vietnamese American voters, as well as a case study involving the Orange County Asian and Pacific Islander Community Alliance (OCAPICA) voter mobilization campaign. Then, he made four recommendations: "foster trust, increase knowledge, ensure accountability and build community capacity."
In other words, Reyes noted: "community groups, such as OCAPICA, should continue to serve as liaisons between Asian American and Pacific Islander communities and governmental and civic engagement institutions; translate materials into voters' primary languages as a first step in communicating information; coordinate resources and collaboration to maximize benefits; and create conditions within communities to empower community members to make informed decisions."
"Translation isn't enough," Reyes said. "Communication has to be meaningful. There has to be a depth of contact. People not at the table need to be included. That helps in gaining trust."
Reyes' study, funded by a $5,000 University Planning Initiative, is "intended to extend the work of the annual Orange County Community Indicators report, building on the work of the County of Orange, Orange County Business Council and the Children and Families Commission of Orange County in order to identify community needs and propose possible policies to meet those needs."
According to Reyes' report, there were 395,723 Asian Americans and Pacific Islanders, representing 14 percent of the Orange County population in 2000. Projections indicate that by 2050, Asian Americans and Pacific Islanders will represent 20 percent of Orange County's population.
By analyzing OCAPICA's voter mobilization campaign, Reyes observed:
• Community workshops in Korean, Chinese and Vietnamese were presented in collaboration with Orange County's Registrar of Voters.
• Five articles on voting were placed in Chinese-language newspapers, phone calls were made and 3,000 voter guides were distributed at Chinese churches, markets and community organizations.
• Korean Americans received phone calls and 5,000 voter guides were distributed at Korean churches, community organizations, markets and festivals.
• OCAPICA employed a 30-second song, "Power of the Ballot," written and recorded by Kimmy Nguyen, in Vietnamese and played it on three Vietnamese-language radio stations daily from Sept. 17 through election day in November 2006. In addition, 2,000 voter guides were distributed at Vietnamese businesses, phone calls were placed, 13 articles on the importance of voting appeared in Vietnamese-language newspapers and was the discussion topic on three radio talk shows.
• In the November 2006 general election: 45.9 percent of all registered Vietnamese American voters in Orange County cast ballots. Orange County Korean Americans accounted for 36.9 percent and Chinese Americans accounted for 41.7 percent of their respective registered voter groups.
Reyes' report also notes that OCAPICA's campaign, Project API, included post-election focus groups with Chinese, Korean and Vietnamese American communities in Orange County. The focus groups were asked how they felt about voting, what kinds of experiences they have had at voting sites, what helps or hinders them from voting and how various kinds of outreach affected them in the voting process.
The report found that focus group participants had a strong desire to vote, but certain barriers hold them back. Some findings include:
• Although translated voting materials were available, the complexity of the propositions' original language made it sometimes challenging to understand the translation.
• Many voters did not see the relationship between their votes and the impact on their lives.
• Voters had difficulty accessing needed bilingual support at various institutions throughout Orange County.
"In addition to the findings of this report, the complexity of the many Asian American and Pacific Islander communities in Orange County, not just the Chinese, Korean and Vietnamese communities, call for more programs such as OCAPICA's Project API Vote and further research to increase civic engagement," Reyes said.
"This report is very important to the Asian American and Pacific Islander community because there is so little data available, and reports like this prove the political power that we have as a community," Tanzila Ahmed, OCAPICA's policy manager.