New Cop on Campus
Don Landers Joins University Police
September 23, 2008
By Pamela McLaren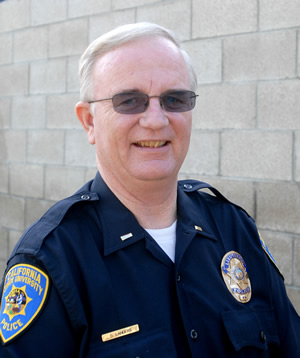 Don Landers
There's a new cop on campus.
Donald Landers, a former lieutenant for the Tulare County Sheriff's Department, has joined University Police as a lieutenant.
"We're very lucky to get someone with his extensive experience and policing background," said Chief Judi King. "He brings to us a lot of things that will help us move forward and continue to progress."
Landers served with the Tulare Sheriffs Department for 36 years — 20 years as a lieutenant — before retiring in January. During his tenure, Landers worked the gamut of police work from patrol, jails, property-evidence and communications, as well as personnel and training.
In addition, he has been involved in multi-agency collaboration, administrative services and internal affairs. Two of the most unusual positions he held: flying the county airplane for more than 20 years as a commercial, instrument and multiengine-rated pilot; and managing the county's farm, which raises cows, pigs and crops to feed inmates in the county's four jail facilities.
Landers, who joined the campus in late August, has served on the Visalia City Council since 1995, including two years as mayor. He has been a member of Visalia's Planning Commission, its Public Building Authority and Economic Development Board of Directors, as well as the Cross Valley Railroad Joint Powers Agreement Board of Directors and Tulare County Economic Development Agency Board of Directors. In 2006, Landers was directly involved in the construction of two LEEDs certified police precinct buildings in Visalia.
The new member of the University Police says that he was intrigued when he heard about the position at Cal State Fullerton. He also liked what he heard about the police department and the support it had from the campus.
"Two things that attracted me," said Landers, "one, it's nationally accredited — which shows there's pride and a commitment to being a professional organization — and two, the commitment by administration to build a new police building. That told me that the administration had a high regard for Chief King and the department.
"And the personnel who work here in the department have a reciprocal feeling for the campus," he added, noting the lengths of service of several officers and staff. "This speaks volumes overall."
Landers holds a lifetime limited service junior college teaching credential and a bachelor's degree from Fresno State University. While he continues to live in Visalia — using a local apartment during the work week — Landers and his wife, Judy, are beginning to research the area towards purchasing a house.
"My goal is to help facilitate a safe environment for students, faculty and staff members on campus," said Landers. "I think we have a good team here and hope to be able to contribute to their effort.
Six Degrees of Separation
Since joining the campus, Don Landers has discovered that a lot of people have connections to him in one form or another.
"I am more and more fascinated at all of the coincidences," said Landers, who continues to hear of people with links to places related to him, like the police staff member with a cabin in Camp Nelson where he and his wife spent summers growing up. Another staffer has the same name as his daughter.
• The wife of Paul Miller, director of Disabled Student Services, grew up in the city of Lindsay in Tulare County — as did Landers. Miller's daughter, who works in University Police, was named after the city. Miller's cousin is the minister of Landers' church in Visalia, the Baptist Affiliated Gateway Church.
• This week, Landers' daughter, Cassie, began working with Canine Companions in Santa Rosa. After she was hired, Landers found out that the director of the facility is a close associate of Miller.
• Retired Lt. Fred Molina's mother lives in Lindsay, very close to where Landers' parents reside.
• The brother of Debbie Ellis, University Police administrative services supervisor, is the personnel director for Tulare County.