Education Professor and Diversity Training Program Honored
Service to Students Recognized at Student Affairs Conference
December 16, 2008
By Debra Cano Ramos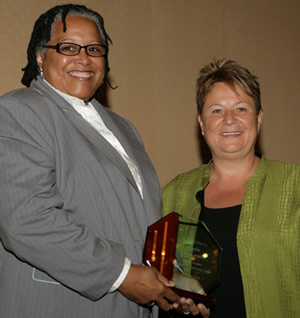 Dawn Person, professor of educational leadership, left, receives the Sandra Kuchler Excellence in Mentoring Award from Susan Borrego, incoming regional vice president of NASPA, Region VI, at the recent NASPA — Student Affairs Administrators in Higher Education — Western Regional Conference. Photo by Edward Salas
A Cal State Fullerton education professor and a university program that helps students to embrace diversity were given top honors at the recent NASPA — Student Affairs Administrators in Higher Education — Western Regional Conference in Long Beach.
Dawn Person, professor of educational leadership, was lauded for being an exemplary role model and presented with the Sandra Kuchler Excellence in Mentoring Award at the November conference. The award strives to recognize individuals for their ability to advocate and advise in administrative, organizational and professional matters, as well as be an excellent role model for others.
"I am honored and humbled to be recognized by former students, colleagues and leaders of the higher education student affairs community who recognize the importance of our collective work in nurturing, coaching and supporting the next generation of reflective scholar practitioners," Person said.
"I enjoy the mentoring aspect of my work and have learned and gained so much from the time spent with students both in and outside the classroom."
Person, a Long Beach resident who joined Cal State Fullerton in January, is the coordinator of the university's new education doctorate in community college leadership program, which was launched this fall. She serves as director of the College of Education's new Center for Research on Educational Access and Leadership, in which doctoral candidates and other graduate students will be involved in research projects.
EMBRACE — Educating Myself for Better Racial Awareness and Cultural Enrichment — was selected as the 2008 NASPA Region VI Innovative Program Award winner. The Innovative Program Award is presented to an institution, program or individual that demonstrates innovation and creativity, and contributes immensely to the college or university.
The program is a collaboration between the Multicultural Leadership Center and the Student Leadership Institute. Through EMBRACE, students receive training in leadership development as it relates to cultural sensitivity, multicultural understanding and social justice. The program encourages students to explore and discuss issues related to race, ethnicity, age, gender, sexual orientation, ability and religion, said Carmen Curiel, director of the Multicultural Learning Center, who oversees the program.
"The Multicultural Learning Center supports the academic curriculum and the university mission by preparing students to become leaders in a global society who are self-aware, culturally competent, civically engaged and critical thinkers," Curiel said.
"EMBRACE is a great opportunity for students to get involved on campus and learn more about multiculturalism and social justice issues, as well as further one's involvement within their own communities."
The EMBRACE program was showcased during the conference by Curiel; Juanita Razo, assistant dean of students for Leadership & Multicultural Development Programs; and Monique Cardenas, EMBRACE student director. Cory Bodda, Eduardo Garcia and Karla Rios are the EMBRACE student facilitators for the fall semester.
For more information about the EMBRACE Program, visit their website. For information about the Ed.D. programs, visit http://ed.fullerton.edu/edd/ and a previously published story about a new doctorate degree.