CSUF Among Princeton Review's Best Business Schools
College Makes Listing Based on Student Surveys
October 7, 2008
By Pamela McLaren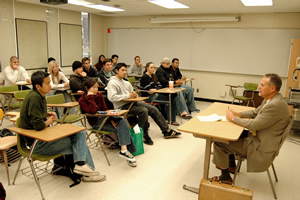 Business students listen to alumnus Andrew W. Mihaylo (B.A. business administration '73) during Professor for a Day activities. Guest speakers, special events and activities and programs in which students use what they learn in practical applications, are just some of the many learning experiences available to students in Mihaylo College of Business and Economics.
Cal State Fullerton's Mihaylo College of Business and Economics has been included in the 2009 edition of Princeton Review's "Best 296 Business Schools."
This is the second year in a row that the college has been included in the publication.
The listing is based on surveys of students enrolled at universities that offer MBA programs accredited by the American Association of Colleges and Schools of Business, as well as on statistical information about each institution's students, physical environment, admissions requirements, teaching ratio and programs.
Universities and colleges are listed under such categories as best professors, classroom experience, career prospects, campus environment and facilities, and opportunities for women and minorities.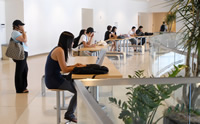 Students relax between classes in Mihaylo Hall. Photo by Kelly Lacefield
"Our impact stems from our immense presence in the region and strong links to the economic progress of the area," said Anil K. Puri, dean of Mihaylo College of Business and Economics. "Our college prepares an unmatched number of graduates for success in the workplace, and our faculty, staff and students work with business leaders to advance the fortunes of business in Orange County and Southern California."
"Having our college recognized in this manner proves that students recognize the quality of their educational experience here," said Mark Hoven Stohs, associate dean of the Mihaylo College of Business and Economics.
The college currently has 466 students enrolled in its MBA programs and an additional 257 in its other graduate programs, which include master's degrees in economics, accountancy, taxation and information systems.
"Our more than 4,500 master programs alumni are leaders in both corporations and small businesses throughout Orange County and the surrounding region," added Stohs.
The Princeton Review (not affiliated with Princeton University) does not rank the institutions on a single hierarchical list or name one business school best overall. "Best Business Schools" is one of 200 Princeton Review titles published by Random House and is available at bookstores.