Convocation 2008
Gordon Urges Campus to Continue to Provide Quality Experiences, Opportunities
September 9, 2008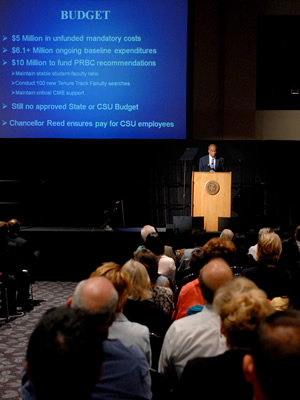 President Milton A. Gordon addresses the campus community.
President Milton A. Gordon welcomed new and veteran members of the campus community Tuesday, Sept. 9, during his annual convocation address.
Despite the ongoing uncertainly about the state budget, Gordon reminded the campus that the university must continue to meet the needs of California's citizens and provide access to an affordable, high-quality education.
Cal State Fullerton must continue to recruit and retain a diverse body of quality faculty, staff and administrators, and provide professional development for both.
The campus also needs to: increase extramural funding by improving the infrastructure at CSUF that facilitates grant and contract submissions; develop more innovative and online programs; emphasize sustainability in operations and academics; continue globalization of the curriculum; continue advances in information technology; and increase private support for CSUF and its programs, Gordon said.
As part of future planning, the campus also will determine land acquisition and capital development projects needed to accommodate enrollment growth.
"Even as we look ahead to challenging budget years, we must not seem to forget our accomplishments of the past and our vision for the future. We must remember that it is our Titan family — faculty, staff, students, alumni and community friends — who are our greatest strengths. Let us always remember that it is always the people — you — not the plans alone that produce success."