Keeping Clean and Green
University Reinforces Message With Revamped Recycling Page
November 25, 2008
By Pamela McLaren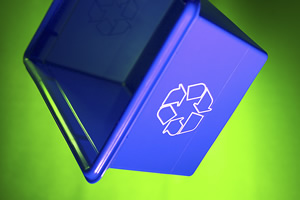 Cal State Fullerton has a long history of recycling but finding out about the campuswide effort was sometimes difficult with information located on several websites. Now, there is but one place where members of the campus community can easily find out what, how and why to recycle.
"We placed everything on one site, so no matter what you're looking to recycle, we have the answer for you," said Willem van der Pol, director of physical plant.
The website opens with information on why the campus recycles and who to contact for information and a schedule for services.
From the main page, campus members can click to links including a recycling and disposal guide or to a page of interesting recycling facts. There also is a link to the campus' annual waste management report to the state.
This year's state report notes that the campus generated 13.5 tons of waste — paper, plastics and tree trimming waste, as well as printer and copier cartridges, computers, monitors and printers, old appliances, scrap metal, concrete and other materials. Of that 53 percent was diverted to recycling.
It's just one of the many things the campus is doing to stay green and to do its part to reduce the amount of waste that goes into landfills, added van der Pol.
The campus also has joined the Association for the Advancement of Sustainability in Higher Education in an effort to support the university's emphasis on sustainability. The organization is a network of colleges and universities, businesses and organizations working to advance sustainability in higher education.
All members of the campus community are covered by the AASHE membership and have access to members-only resources, discounts to AASHE-sponsored workshops and events and opportunities for professional development and networking.
In addition, a campus Sustainability Initiative Study Group recently delivered a report on the issue to President Milton A. Gordon.
"This group is exploring research projects, programs and other options that the campus can undertake in an effort to create a more sustainable environment," said van der Pol.
Related Links:
Using Solar Power to Run the Campus
Campus Focuses on Sustainability
Academic Senate Forum – Sustainability Update (pdf download)
Cal State Fullerton Goes Green With Energy Efficiency, Building Design
Working to Build a More Ecologically Friendly Campus