Campus Honors Faculty
Annual Appreciation and Service Awards Presented Nov. 12
November 25, 2008
By Pamela McLaren
Cal State Fullerton honored the dedicated service of its faculty members during a special program held Wednesday, Nov. 12, in Portola Pavilions of the Titan Student Union.
Among those recognized were George I. Cohn, professor of electrical engineering, and Robert J. Michaels, professor of economics, who have served on campus for 40 years.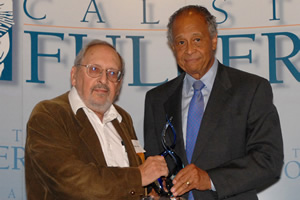 George Cohn, professor of electrical engineering, is presented with a token of appreciation for 40 years of service by President Milton A. Gordon during the annual Faculty Appreciation and Service Awards program Nov. 12. Photo by Kelly Lacefield
An authority in the field of digital logic, microwaves and electromagnetic theory, Cohn joined the campus in 1968 after eight years as a professor at Illinois Institute of Technology and after serving in industry as a company president, technical director, program manager and section manager. He was acting chair of the Electrical Engineering Department for a one-semester term in 1992. Most recently, he has honored book chapters in "The Mechatronics Handbook" and "The Electronics Handbook" published by CRC Press.
Michaels has made a name for himself in the field of energy policy, testifying before such groups as the U.S. House of Representatives Subcommittee on Energy and Power, the Federal Regulatory Commission and the California Public Utilities Commission. His work has been published in such journals as Energy Law Journal and Investor's Business Daily. Michaels, who has served as an energy consultant, is the first recipient of the Daniel P. Hann Distinguished Fellow in Economics and Regulation, a fellowship to honor a faculty member with a distinguished record of publication and service.
Honored for 35-years of service were:
Farouk H. Abdelwahed, associate professor of management
Joseph H. Arnold, associate dean of the College of the Arts and a professor of theatre and dance
Gaylen R. Carlson, professor of geological sciences
James L. Dietz, associate vice president for academic affairs and professor of economics
Gerald E. Gannon, professor of mathematics
J. Douglas Liverpool, learning disabilities/mental health specialist in Disabled Student Services
Karen A. Lystra, professor of American studies
Douglas J. Navarick, professor of psychology
Mougo Nyaggah, associate professor of history
William F. Presch, professor of biological science and director of the California Desert Studies Consortium
Rick D. Pullen, dean of the College of Communications and professor of communications
President Milton A. Gordon, center, joins faculty members who have served the campus community for 35 years, including from left, Joseph H. Arnold, associate dean of the College of the Arts and a professor of theatre and dance; Gerald E. Gannon, professor of mathematics; James L. Dietz, associate vice president for academic affairs and professor of economics; Farouk H. Abdelwahed, associate professor of management;Mougo Nyaggah, associate professor of history; Gaylen R. Carlson, professor of geological sciences; and Rick D. Pullen, dean of the College of Communications and professor of communications. Photo by Kelly Lacefield
Recognized for three decades of service on campus were:
Joann C. Carter-Wells, professor of reading
S. Ana Garza-Dargatz, professor of elementary and bilingual education
Allen W. Gottfried, professor of psychology
Gladys M. Kares, professor of theatre and dance
Harold R. Rogers, associate professor of chemistry and biochemistry
Those faculty members honored for a quarter of a century of service were:
William C. Beam, associate professor of kinesiology
Pinaki R. Chakrabarti, professor of civil and environmental engineering
David L. DeVries, professor of communications
Hassan Hamidi-Hashemi, professor of electrical engineering
James R. Hofmann, professor of liberal studies
Bhushan L. Kapoor, professor of information systems and decision sciences
George S. Lin, professor of civil and environmental engineering
Jill L. Rosenbaum, professor of criminal justice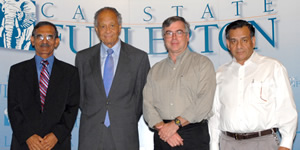 Honored Nov. 12 for 25 years of service to the campus community by President Milton A. Gordon, second from left, are Bhushan L. Kapoor, professor of information systems and decision sciences; William C. Beam, associate professor of kinesiology; and Pinaki R. Chakrabarti, professor of civil and environmental engineering. Photo by Kelly Lacefield
Honors for 20 years to Cal State Fullerton went to:
Louise C. Adler, professor of educational leadership
Gayle K. Brunelle, professor of history
Su H. Chan, professor of finance
Marc Dickey, associate professor of music
Kathryn Dickson, professor of biological science
John L. Elders, head coach of cross country and track and field
Joanne Gass, professor of English, comparative literature and linguistics
Zvi R. Goldstein, associate professor of information systems and decision sciences
Diana W. Guerin, professor of child and adolescent studies
Josefina Hess, professor of modern languages and literatures
Patricia F. Keig, associate professor of elementary and bilingual education
James R. Lasley, professor of criminal justice
Sergio Lizarraga, associate professor of arts
Howard F. Naish, professor of economics
Morteza Rahmatian, professor of economics
Ernie S. Solheid, professor of mathematics
Keith H. Wanser, professor of physics
Fred Zandpour, professor of communications

Honorees for 20 years of service were recognized during the Nov. 12 faculty recognition event held in the Titan Student Union. Joining President Milton A. Gordon, center, are, from left, Josefina Hess, professor of modern languages and literatures; Kathryn Dickson, professor of biological science; Ernie S. Solheid, professor of mathematics; Louise C. Adler, professor of educational leadership; Morteza Rahmatian, professor of economics; Joanne Gass, professor of English, comparative literature and linguistics; Diane W. Guerin, professor of child and adolescent studies; Marc Dickey, associate professor of music; and Patricia F. Keig, associate professor of elementary and bilingual education. Photo by Kelly Lacefield
Recognized for 15 years of service were:
Julie Bowse, assistant athletic director for compliance
Jeffrey H. Brody, professor of communications
Victoria B. Costa, professor of secondary education
Kimberly A. Tarantino, lecturer in accounting
A decade of service honors were presented to:
Mitchell E. Avila, associate professor of philosohy
Melinda A. Blackman, associate professor of psychology
Renae M. Bredin, associate professor of women's studies
Joseph M. Cervantes, professor of counseling
David Chen, associate professor of kinesiology
Thomas N. Clanin, lecturer in communications
Jacqueline K. Coffman, assistant professor of child and adolescent studies
Bin Cong, professor of computer science
Anne M. Cox-Petersen, professor of elementary and bilingual education
John T. Drew, professor of art
Thomas Y. Fujita Rony, associate professor of Asian American studies
Barbara J. Glaeser, associate professor of special education
Neil A. Granitz, professor of marketing
Arnold A. Holland, associate professor of art
Christine L. Latham, professor of nursing
S. Irene Matz, assistant professor of human communication studies
Robert W. Mead, assistant professor of economics
Barbara A. Miller, associate librarian in the Pollak Library
Michael Newby, lecturer in information systems and decision sciences
Kimberly A. Norman, associate professor of elementary and bilingual education
Ronald E. Oliver, professor of educational leadership
Katherine S. Powers, associate professor of music
Ann Sheffield, associate professor of theatre and dance
Yichin Shen, associate professor of English, comparative literature and linguistics
Clay P. Sherman, associate professor of kinesiology
Blaine K. Walgren, lecturer in finance

President Milton A. Gordon, center, joined in giving accolades to faculty members who have served on campus for a decade, including, from left, Barbara J. Glaeser, associate professor of special education; Kimberly Norman, associate professor of elementary and bilingual education; Anne Cox-Petersen, professor of elementary and bilingual education; Michael Newby, lecturer in information systems and decision sciences; Barbara Miler, associate librarian in the Pollak Library; Yichin Shen, associate professor of English, comparative literature and linguistics; Clay Sherman, associate professor of kinesiology; Robert Mead, assistant professor of economics; and Melinda Blackman,associate professor of psychology. Photo by Kelly Lacefield
Five-year service honorees were:
Vipin K. Agrawal, assistant professor of finance
Joseph E. Biel, assistant professor of art
Nathan T. Carr, assistant professor of modern languages and literatures
James G. Childers, assistant professor of physics
James M. Dahl, assistant professor of art
Laura Dean, lecturer in kinesiology
Marcia Foster, associate head coach of women's basketball
Margaret D. Garber, assistant professor of liberal studies
Anne M. Houtman, associate professor of biological science
Steven R. James, associate professor of anthropology
Margaret L. Kidd, assistant professor of mathematics
Susan M. Larsen, assistant professor of human services
John Leighton, associate professor of art
Zhuangjie Li, professor of chemistry and biochemistry
Davina C. Ling, assistant professor of economics
Stacy L. Mallicoat, assistant professor of criminal justice
Timothy E. Maloney, assistant professor of radio, TV and film
Robert A. McLain, assistant professor of history
Andrew L. Newman, associate head coach of men's basketball
Eliza S. Noh, assistant professor of Asian American studies
Marsha E. Orr, lecturer in nursing
Patricia A. Prunty, assistant professor of music
Georgianna Ravenna, lecturer, CalState Teach
Mark A. Redhead, associate professor of political science
David M. Sandner, associate professor of English, comparative literature and linguistics
Teryl E. Schessler, lecturer in anthropology
Gerald Seminatore, assistant professor of music
Stephen J. Stambough, associate professor of political sciences
Kristin K. Stang, associate professor of special education
Sora P. Tanjasiri, associate professor of health science
Jennifer Trevitt-Carlson, assistant professor of psychology
Kenneth J. Walicki, associate professor of music
Sean E. Walker, assistant professor of biological science
Adam D. Woods, assistant professor of geological sciences
Gerald Wright, lecturer in communications
Feng Xiao, assistant professor of economics
Jing Yang, assistant professor of finance
Danielle C. Zacherl, assistant professor of biological science

Joining President Milton A. Gordon, center, during the annual faculty appreciation event are five-year honorees, from left, James M. Dahl, assistant professor of art; Margaret L. Kidd, assistant professor of mathematics; Marcia Foster, associate head coach of women's basketball; Nathan T. Carr, assistant professor of modern languages and literatures; Patricia A. Prunty, assistant professor of music, and Marsha Orr, lecturer in nursing. Photo by Kelly Lacefield