Alumna Wins Fulbright
Franck Heads to Germany to Teach English
August 5, 2008
By Mimi Ko Cruz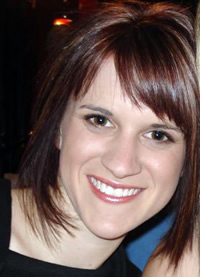 Brittany Franck
Cal State Fullerton alumna Brittany R. Franck will be spending the upcoming academic year in Germany teaching English to high school students, thanks to a Fulbright fellowship.
Franck will be working as a teaching assistant at Ev. Kreuzgymnasium High School in Dresden from September through June in 2009.
Franck graduated magna cum laude in 2006 with a bachelor's degree in American studies and English. In 2007, she spent nine months learning German at the Goethe Institut in Germany.
The 24-year-old Brea resident is one of about 1,500 Americans traveling abroad for the 2008-09 academic year through the Fulbright U.S. Student Program. The U.S. Department of State's Bureau of Educational and Cultural Affairs sponsors the Fulbright Program, which was established in 1946 under legislation introduced by the late Sen. J. William Fulbright (D-Ark.).
Franck said the Fulbright experience in Germany will help her when she returns to pursue a doctorate. She plans to become an American studies professor.
"I am focusing on building my base of experience before proceeding to graduate school," Franck said. "To be an effective professor in American studies, I need to be experienced in exploring American culture from an outsider's perspective. I have learned the important theories of the definition of culture, studied the formation of identity and heard different answers to 'What is an American?' Now I am ready to take these theses and test their strength outside the American parameters. I want to ask a room full of German students to define their understanding of American culture or their concept of a typical American."
In her letter of application for the Fulbright fellowship, Franck wrote: "Like many other teachers and scholars, I believe that the optimal way to understand my own culture is to distance myself from it and observe it within a larger context.
"Of greatest importance is my desire to create a classroom environment that respects and appreciates cultural differences and similarities," she added. "My background in literature and cultural studies has prepared me to promote mutual understanding, as these fields emphasize the importance of human connections and universal experiences. I will teach my students, as my professors did me, to set aside categories such as 'us versus them' and, instead, seek common ground between American and German culture."
Franck, a pianist who has worked as a classical piano teacher and a youth group leader, said she plans to focus her graduate studies on European and American renaissance literature with an emphasis on the theme of nature. While in Germany, she said she looks forward to seeing and studying the artwork, music and literature of the German romantics.
"I also will be able to extend my academic interests into practice, working directly with the environment," she said. "Germany is well known for its commitment to environmental legislation and is, thus, home to a number of organizations and societies committed to the study of and service to the environment."
As part of her Fulbright grant, Franck plans to get involved with a European organization that focuses on the environment and literature.
"I also plan to encourage my students to work with me through neighborhood clean-up days or helping to encourage environmental consciousness at school," she said.