Getting Down and Dirty
Civil Engineering Students Help Lead Cleanup of Brea Creek
November 11, 2008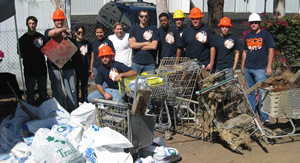 CSUF-ASCE members wrestled the heavier objects up the steep Brea Creek bank. The civil engineering students and about 300 volunteers pulled well over a ton of trash from the watershed.
Few people would think that spending hours getting dirty would earn the praise of a city, but that's exactly what happened to student members of Cal State Fullerton's American Society of Civil Engineers.
The city of Brea heaped praise on the students for their leadership in directing the operations of 300 or so volunteers during the city's annual Inner Coastal Cleanup event, part of a statewide Coastal Cleanup Day.
The daylong, high-intensity effort to clean the 3.5 miles of the creek within city limits before debris washed down to the ocean netted more than a ton of trash.
"They were our main point of contact inside the channel," said Brian Ingallinera, Brea's event organizer. The Cal State Fullerton students "monitored where the most work was, coordinated how many volunteers were needed and got them there. They wore orange vests and hard hats. That made them very visible while working so hard … they were great examples to the Boy Scout groups and to the families, especially the children."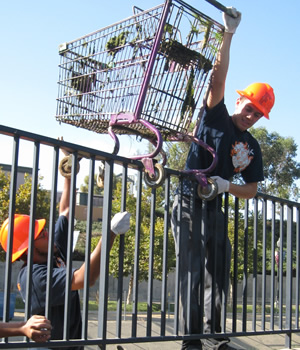 Wrestling with a wet and muddy shopping cart are sophomore Jerome Terrell and senior Anthony Hangartner.
Chris Reimer of Brea's public affairs office added, "They also were gracious helpers when volunteers needed a hand getting up and down the bank. They were everywhere, especially when there was a heavy or bulky object to wrestle with."
"We worked with citizens from the community and overall the vibe was really great," said senior Nick Polichetti, chapter vice president and a cleanup participant. "We pulled up a lot of stuff, including street signs and grocery carts. At the end of the day, knowing we prevented so much trash from reaching the ocean was a great feeling. Through events like this, I feel a greater connection with the university and the College of Engineering and Computer Science. There is more of a sense of pride when residents from the surrounding cities ask where you're from and you can say 'Cal State Fullerton.'"
For the city of Brea article, go to http://www.cityofbrea.net/article.cfm?id=1905