An Experience of a Lifetime
Alumna Serves Community in Southern Africa
September 2, 2008
By Pamela McLaren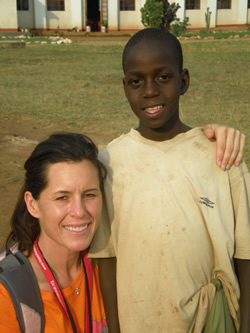 Becky McGraw visits with a young boy from Uganda.
Cal State Fullerton alumna Becky McGraw, a key account development manager for Nestle Waters North America Inc., spent her summer thousands of miles away, sharing her time with others less fortunate.
In July, McGraw (B.A. communications-public relations '00) was volunteering in Uganda.
"It was the most amazing trip I've ever taken in my life," she reported upon returning. "The Ugandans are the most joyful people I've ever met in my life, filled with love and faith."
Although she has contributed to her local community, McGraw said she was inspired to volunteer in Africa by the late Amy Biehl, an Orange County Fulbright scholar who in 1993 traveled to Southern Africa.
"She died a tragic death while attempting to fulfill her dream of bringing assistance to an area of the world that many feel has been forgotten. It was after seeing the news reports of her death I realized the great need of the people in this part of the world," said McGraw. "I committed myself to one day go to better understand the people of Africa and see what I could do to make a difference."
McGraw's volunteer effort was under the auspices of the Hope 4 Kids International organization and she served at a clinic sponsored by Messiah Lutheran Church of Yorba Linda. While there, she painted a water tower at True Vine, a 30-acre site sponsored by Hope 4 Kids; delivered books to a school in Mataba, a Kenya/Uganda border town; helped feed Karamonjon children at Smile Africa Ministries; visited people at a government-run hospital; plowed land and planted corn and visited several orphanages.
She raised funds prior to her trip and spent the money to purchase books for the library at True Vine.
"I knew I was traveling to an impoverished country, yet found myself still shocked by the widespread poverty throughout the country," McGraw said of the experience. "We traveled from Fort Portal to Tororo, which allowed us the opportunity to see pretty much the entire span of the country, so I saw some areas a bit more developed than others. Still, nothing compared to all we have here in the United States."
"Hope 4 Kids International, the organization I coordinated the travel through, did an outstanding job of allowing the opportunity for us to experience the culture and people of Africa," said McGraw. "I plan to return to Uganda next year."