Student, Alumni Exhibit Showcases Link Between Art and Health
'Art 4 Health II' Community Reception Sept. 12
September 9, 2008
By Debra Cano Ramos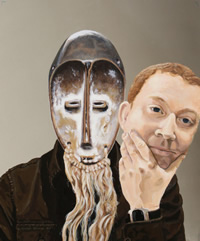 Brigham F. Alleges, a visual art graduate student, painted "True Identity" for the Art 4 Health II exhibit at the Student Health and Counseling Center.
"Art 4 Health II," an exhibit showcasing the connection between art and health, opens Friday, Sept. 12, at Cal State Fullerton's Student Health and Counseling Center.
An opening reception, free and open to the public, will be held from 2 to 5 p.m., prior to the university's Concert Under the Stars.
The second annual exhibit, featuring 91 artworks created by 34 Cal State Fullerton students and alumni, is a collaborative effort between the Student Health and Counseling Center and the College of the Arts.
"We hope that the event will heighten campus awareness about the Student Health and Counseling Center and the services it provides to our students. At the same time, we wish to bring recognition to the artwork of our students and alumni," said Howard Wang, associate vice president for student affairs and the center's executive director.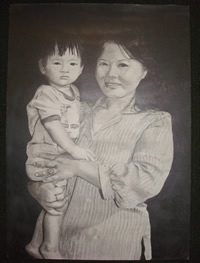 Anderson Nguyen, a senior majoring in graphic design, created "Mother and Son" that is part of the exhibit opening Sept. 12.
Through this juried exhibit, visual artists from a variety of disciplines "examine health in the process of living," said Cheryl Groch, exhibition coordinator.
"Their explorations are their stories, their memories, their hopes and dreams," Groch said. "To open a dialogue is the job description of an artist."
For decades, art therapy has been used to promote healing, and that is the program's mission, added Andi Fejeran Sims, College of the Arts assistant dean.
"The College of the Arts is proud to partner in this collaborative program resulting in a win-win situation for Cal State Fullerton students at large and the Student Health and Counseling Center," Sims said. "The art produced gives our home-grown artists an opportunity to be featured in a high-profile university exhibition, which at the same time, affords staff, medical practitioners and patients a unique experience that promotes emotional, psychological and physical healing."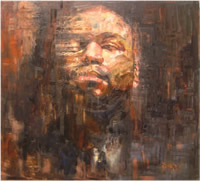 Alumnus Eric Leonard Jones, who earned a master's in fine arts in 2007, submitted "There's Hope" for the Art 4 Health II exhibit.
The first Art 4 Health exhibit featured the works of 22 artists and opened during Cal State Fullerton's 50th anniversary kickoff celebration last September.
Last year, alumni submitted the bulk of the artwork exhibited, Wang said.
"This year, we made a special effort to recognize our current students, and we hope that the artwork affords viewers a healing moment during which they can link what they see with how they feel."
At the reception, a silent auction will be held featuring more than 60 of the artworks with attendees having the chance to bid on a "Titan Masterpiece." Proceeds will benefit the Art 4 Health program. Tours and refreshments will also be offered.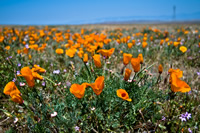 "Maturity," is the title of artwork by senior Matthew Gallizzi, a business administration major, for the Art 4 Health II exhibit, which opens Sept. 12 at the Student Health and Counseling Center.
This year's selected works will be exhibited in the Student Health and Counseling Center through July 2009. After Friday's reception, the exhibit will be open to the public and campus community by appointment only. To schedule an appointment, call 657-278-3946 or visit www.fullerton.edu/shcc/Art4Health2008.htm.