Salvia Spectacular
Plants Known for Healing and Seasoning Food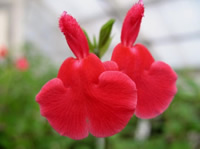 Salvia Microphylla
August 19, 2008
More than 100 species and varieties of salvia — commonly know as sages — will be on sale Sept. 6-7 at the Fullerton Arboretum. Sales hours are 10 a.m. to 4 p.m. both days. Admission is free.
Among the varieties that will be available at the "Salvia Spectacular" are the Mexican El Cielo Blue, a hummingbird attracter with broad leaves bluish on top and purple underneath, and the Moroccan Salvia Interrupta, with blue and white blossoms appearing summer through fall.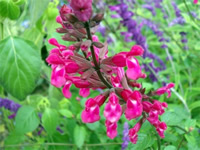 Salvia Mulberry Jam
Salvias grow in most temperate and subtropical parts of the world from sea level to more than 11,000 feet. The pest- and disease-resistant plants are drought-tolerant and occur in many forms, including perennial, biennial, annual herbs, evergreens and deciduous shrubs.
Although the Arboretum is normally open from 8 a.m. to 4:45 p.m. daily, it will be open until 7 p.m. Monday through Thursday in September.
For more information, go to /www.fullertonarboretum.org or call 657-278-3579.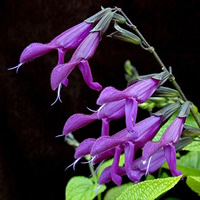 Salvia Purple Majesty