Bringing in Fall Color
Arboretum Hosts California Native and Fall Plant Sale
October 7, 2008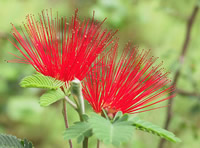 Baja Fairy Duster
The Fullerton Arboretum's Potting Shed will be hosting a California Native and Fall plant sale over the weekend of Oct. 11-12.
"Fall is the best time to plant natives and other related plants," according to Evie Tyra, nursery manager. "We have numerous indigenous varieties that will be offered for sale, and they have been carefully propagated and grown in our state-of-the-art Fullerton Arboretum nursery by volunteers and staff. Many uncommon and hard-to-find plants will be for sale and several can be found growing on the Fullerton Arboretum grounds."
One of the featured plants is Calliandra californica, or Baja Fairy Duster, a constant bloomer that attracts hummingbirds, bees, butterflies and other birds. The fairy duster grows to about 3 feet tall and spreads to 5 feet wide.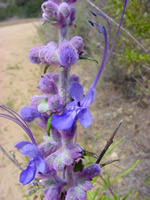 Woolly Blue Curls
Another variety that will be on sale is the Trichostema lanatum or Woolly Blue Curls, a 3- to 4-foot evergreen shrub with fuzzy violet flower spikes during spring and summer and narrow aromatic leaves. Woolly Blue Curls is native to dry slopes and south coast ranges of California.
Also featured will be the Dendromecon harfordii, or Island Bush Poppy, an evergreen shrub that grows to 8-feet in height. Cheery yellow flowers cover the plant almost year round. This species that is found on Santa Rosa, Santa Cruz and Santa Catalina Islands.
The sale also will include a large selection of Mediterranean, Australian and low-water plants.
The free sale will be offered from 10 a.m. to 4 p.m. both days. For further information, contact the Fullerton Arboretum at 657-278-3407 or visit www.fullertonarboretum.org.