Arboretum to Host Bonsai Show
Exhibit and Demonstrations Oct. 18-19
October 14, 2008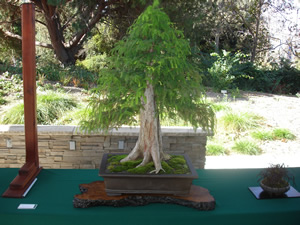 A bonsai tree
An exhibit of the classic art of bonsai trees and demonstrations on how to create and grow the trees is being hosted Oct. 18-19 at the Fullerton Arboretum.
The KOFU Bonsai Kai Club will hold their annual exhibit, "The Art of Bonsai," from 10 a.m. to 4 p.m. both days. Admission is free.
Demonstrations will be held both days at 10 a.m. and 1 p.m. by bonsai experts. Club members will be on hand to answer questions and discuss bonsai design, care and maintenance.
For further information, contact the Fullerton Arboretum, call 657-278-3407 or visit website at www.fullertonarboretum.org.