Chosen to Serve
Veteran Educators Named to Academic Affairs Posts in Acting Capacity
September 30, 2008
Three campus educators with previous administrative experience have been named to serve in acting capacities as the university begins national searches to fill associate vice president positions in its academic affairs division.
Named to one-year terms were:
James Dietz, chair and professor of economics, acting associate vice president for academic affairs effective Aug. 1.
Paula Herberg, chair and professor of nursing, acting associate vice president for international programs effective Aug. 21.
Edgar P. Trotter, professor of communications, acting associate vice president for undergraduate programs effective July 7.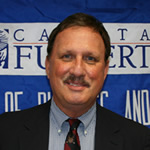 James Dietz
James Dietz
In addition to his tenure as department chair, Dietz has served five years as coordinator of the Latin American Studies Program and as a member of the Academic Senate. He has chaired the senate's Faculty Personnel and International education committees and was a member of its Professional Leaves committee.
Dietz, who joined the campus in 1973, also has served as chair and a member of the Economics Department Personnel Committee and as a senator on the college senate.
An authority on the economy of Puerto Rico, Dietz has authored two books and either co-authored or co-edited several additional books on the economic development of Latin America, as well as numerous book chapters, peer-reviewed journal articles and book reviews. Dietz also has given seminars and lectures at universities in the U.S., Mexico, Puerto Rico and London.
A resident of Santa Ana, Dietz earned his doctorate in economics from UC Riverside.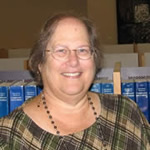 Paula Herberg
Paula Herberg
Herberg joined the campus in 2000 and for the last five years has served as chair of the nursing program, where she played a role in helping to move from a program that required majors to have completed an associate degree at community college prior to admission to a full, four-year bachelor of science degree with more than 700 majors.
Prior to joining the university, Herberg spent 15 years as a nursing educator in such countries as Pakistan, Switzerland, Africa, Afghanistan, Nepal and Thailand. She has held such positions as associate dean of health sciences and director of the School of Nursing at Aga Khan University in Karachi, Pakistan and was a consultant for numerous international programs, including the World Health Organization.
She has authored a number of articles, books and technical reports based on her international work and been honored by the Pakistan Nursing Council.
The resident of Orange earned her doctorate in nursing, as well as a master's degree, from the University of Utah. She also holds a master's degree, with a specialization in child psychiatric/pediatric nursing from the University of Maryland, as well as a bachelors degree in nursing from Cal State Long Beach.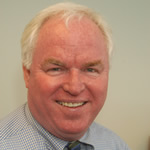 Edgar P. Trotter
Edgar P. Trotter
A member of the campus community for 33 years, Trotter has served in a wide range of capacities from professor to acting department chair and member of the then-Faculty Council (now Academic Senate) to director of the University Honors Program in 1998 and four years as director of the Learning Technology Center.
Trotter has served on the Faculty Affairs, Student Academic Life, University Planning, Extended Education and Outstanding Professor committees. He also chaired such campuswide groups as the Faculty Personnel, Constitution, and Planning, Resources and Budget committees, University Honors Board and the Information Technology Committee.
He has authored four journals in his field of public relations and presented papers at numerous meetings and conferences of professional organizations. In addition, he was honored for "Outstanding Contributions in Communications Leadership" by the Orange County chapter of the International Association of Business Communicators.
The Santa Ana resident earned a doctorate in journalism from Southern Illinois, a master's degree in journalism from Ohio University and a bachelor's degree in mathematics from Murray State University.