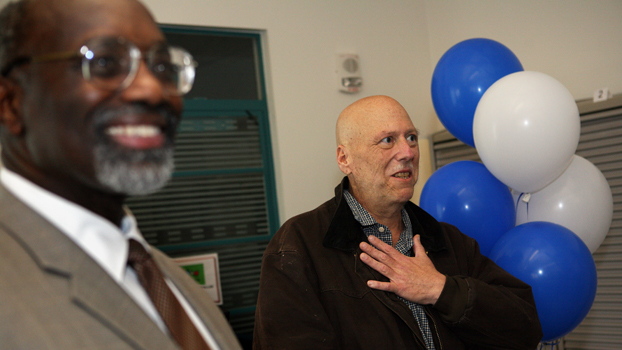 Caption: CSUF Interim President Willie J. Hagan, left, surprised John A. Bock, the latest recipient of the university's Outstanding Professor Award. Photo: Greg Andersen Download Photo
Anthropologist Is Outstanding Professor
Highest Faculty Honor Bestowed on John A. Bock
May 4, 2012
Taken by surprise in the midst of class Thursday afternoon, John A. Bock, professor of anthropology, learned of his new title: Outstanding Professor.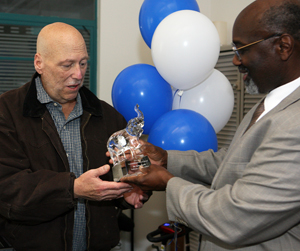 Caption: Willie J. Hagan, right, hands John A. Bock a crystal elephant. Photo: Greg Andersen Download Photo
Bearing crystal, balloons and a $2,000 honorarium, a delegation of administrators and peers, led by Cal State Fullerton's Interim President Willie J. Hagan entered the room to announce the news.
"Congratulations, John," Hagan told Bock, giving him a hug before turning to his students and explaining, "we're here because every year Cal State Fullerton selects the faculty member who will receive the university's highest honor. Dr. Bock, this prestigious award recognizes your record as an exemplary teacher-scholar, contributions to student learning and scholarly research and service to the campus and community."
Hagan pointed to some of Bock's many achievements, adding "he's done a lot for education on this campus, and so we felt it important to come in here and honor him."
Angela Della Volpe, dean of the College of Humanities and Social Sciences, called Bock a "shining star," who has made the university proud.
"This is completely unexpected," Bock said. "This is a wonderful honor. I really appreciate it. I've always been blessed with wonderful students, and I look forward to continuing my career here at Cal State Fullerton. Thank you so much."
When Bock was hired in 2000, he was asked to develop a new program in biocultural anthropology. He quickly fulfilled that obligation, then developed six new courses, then, updated five more.
In 2009, Bock proposed and led the establishment of the university's Center for Sustainability. The center, in conjunction with the Environmental Studies Program, received a $300,000 grant from the U.S. Department of Education to enhance the recruitment and retention of Hispanic American graduate students in the university's environmental studies program.
Besides teaching and program development, Bock serves as a mentor to undergraduates and graduate students who aspire to pursue professorial positions or doctoral programs in anthropology, education, natural resource management and public health. His students have gone on to study at top universities in the U.S. and abroad.
"John has excelled in the areas of teaching, scholarship and service in ways that have helped Cal State Fullerton move forward, bringing recognition to the university," Della Volpe said.
Much of Bock's scholarly work focuses on the influences of social, ecological and cultural contexts on children's growth and development, and he has conducted much of his research among the Okavango Delta Peoples of Botswana.
"The Okavango children's roles blur the distinction between work and play," he explained. "By observing them, I can examine how the children move from play to skill acquisition. This provides a backdrop from which I can see different contexts of children's learning."
His research is widely cited as the forefront of a new movement in the discipline of anthropology to establish a holistic anthropology of children.
"Dr. Bock enjoys a national and international reputation as a scholar," said John W. (Jack) Bedell, professor of sociology and chair of the Academic Senate. "In addition, he has energized the M.A. in environmental studies program,  which is now exceeding enrollment targets. He is at the forefront on issues of sustainability, and his expertise has resulted in new partnerships with local city officials and the private sector."
On campus, Bock has been active in collegial governance. He served as chair of the Western Association of Schools and Colleges Task Force on Student Learning and Assessment.
He is a founding member of the Master of Public Health Program, and he mentors faculty members and colleagues, and consistently integrates his scholarly work with his teaching, according to Mabel T. Kung, professor of information systems and decision sciences, who chaired this year's Outstanding Professor Selection Committee.
Bock, who served on the Anthropology Department and Environmental Studies personnel committees, is coordinator of the Environmental Studies Program.
He has organized or co-chaired numerous, high-profile events, including a climate change program (more than 300 attendees), the 2009 annual meeting of the Human Behavior and Evolution Society (500 participants from around the world) and the annual Alternative Energy and Transportation Expo (hundreds annually).
"Dr. Bock has been a true bridge between the campus and the community, conducting forums on sustainability, alternative energy and transportation, providing a learning opportunity for students in fields that will determine a new economic future for America and the world," said Owen Holmes, associate vice president for government relations.
Bock received his bachelor's degree in political science from Rhodes College in Memphis, and earned a master's degree and doctorate in anthropology from the University of New Mexico.
He has taught more than 20 different courses in anthropology, environmental studies and public health and has served on more than 20 different university committees.
His publication record consists of more than 100 articles, appearing in print and electronic media, peer-reviewed journals and edited volumes, books, short reports and encyclopedia entries. He has presented papers at dozens of conferences and has been an active participant in organizing numerous workshops and conferences.
Bock was associate editor of Human Nature from 2002 through 2011 and has served as guest editor for special issues of the publication.
Despite what his students describe as a demanding curriculum, he consistently receives high scores on student evaluations. Students mention his encouragement and the concrete steps he often takes to help them apply to graduate schools or seek field study opportunities abroad. They point to his insistence that they submit papers to academic publications and present at conferences. And above everything, they talk about his willingness to provide the support they need.
One former student, Cristy Watkins, an urban environmental social scientist at the Field Museum in Chicago, describes how she arrived in Bock's class, wide-eyed and "passionate about chimpanzees" but with little idea of where to go beyond that.
"Dr. Bock taught me to go from being an ignorant enthusiast to a capable researcher," she recalled. "He had a profound influence on my academic and professional development, displaying confidence in me when I entered the Ph.D. program at the University of Michigan and encouraging me to write professional articles. Several friends of mine, who also were John's students, often speak of his ability to turn students into researchers."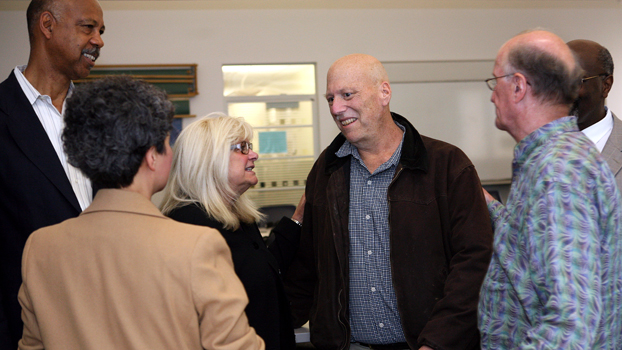 Caption: John A. Bock, center, is congratulated by his colleagues. Photo: Greg Andersen Download Photo
As the new Outstanding Professor, Bock will be recognized at the university's Honors Convocation May 18. In addition, he will lead the faculty at the May 19 and 20 commencement ceremonies.
Kung chaired the nine-member committee that nominated Bock for the Outstanding Professor Award. Established in 1963, the honor includes a $4,000 cash award — half presented when the award is announced and the other half given when the recipient presents the Outstanding Professor Lecture during the next academic year.