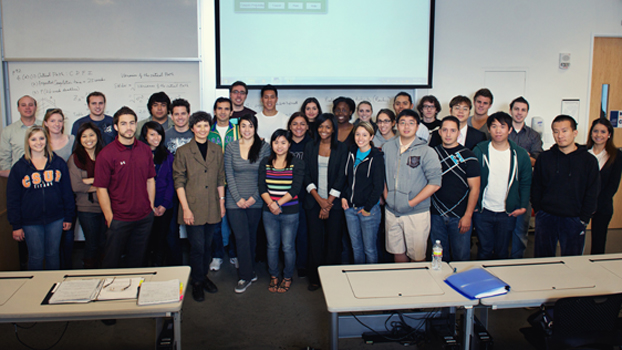 Caption: Mabel Kung, professor of information systems and decision sciences, stands among students from one of her classes. Earlier in the day, President Milton A. Gordon and other campus officials entered Kung's class to announce that she has been chosen this year's recipient of the Carol Barnes Excellence in Teaching Award. Photos by Robert TranDownload Photo
Making a Lasting Impression
Business Veteran Surprised With Excellence in Teaching Award
May 12, 2011 :: No. 147
For more than 30 years, Mabel T. Kung, professor of information systems and decision sciences, has been rigorous, fair and a motivating educator at Cal State Fullerton.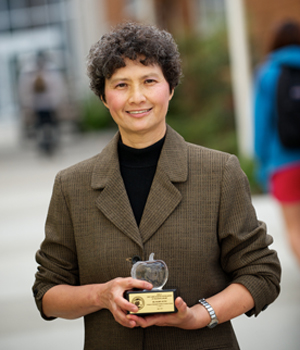 Caption: Mabel Kung holds the Carol Barnes Award presented to her by President Milton A. Gordon.Download Photo
But the experienced faculty member was clearly surprised when the door to her 7 a.m. class opened and instead of a late student, she was greeted by President Milton A. Gordon, who announced to Kung and her students that she is this year's recipient of the 2010-11 Carol Barnes Excellence in Teaching Award.
"You provide a rich and rigorous learning environment for your students in your classes, where you combine an excellent knowledge of the subject matter with a teaching style that energizes and motivates students to learn," Gordon said. "Your entire professional career at California State University, Fullerton, has been filled with excellent teaching combined with superb scholarly research and service activities aimed at enhancing and improving teaching and learning."
Anil Puri, dean of the Mihaylo College of Business and Economics, agreed. "Mabel has an outstanding record as a faculty member and a teacher. This university award symbolizes her commitment to students and highlights the value that we place on good teaching. On behalf of Mihaylo College, I extend our heartiest congratulations to Mabel!"
Joining Gordon and Puri at the surprise announcement were: Steven Murray, vice president for academic affairs, Diana Guerin, chair of the Academic Senate, and Laurance Timm, chair of the Outstanding Professor Committee. All three also praised Kung for the quality of her teaching.
The Yorba Linda resident worked in the financial, computer and defense industries prior to her entry into academia. Kung said it was the examples provided by her professors at the University of Texas at Austin — where she earned her doctorate in management science and information systems — that motivated her to enter teaching. Still, it's the challenge that her students provide through their search for knowledge that continues to drive her in the classroom.
"My students never stop surprising me," she explained, when asked about teaching and what her goals are for her students.
"I wish that they become balanced individuals. Besides their career goals, I hope that they learn to be tolerant, to work well in teams, to be respectful and to listen to others — to be logical.
"My former students have helped me in the development of workbooks and the case studies I use in my classes," Kung says with pride. "Many are now working in the IT field, as well as in academia, and they often come and recruit from my current students."
Those former students continue to recognize what her teaching meant both personally and professionally.
"In addition to great instruction in the academic subjects, Dr. Kung provided assistance to me above and beyond instruction," noted Joseph Hackbarth (B.A. business administration – information systems '05, M.S. information systems '08, M.S. software engineering '10), a senior network analyst in Admissions and Records. "It was due, in part, to her teaching and knowledge of the information technology industry that encouraged me to pursue additional education by applying for and completing advanced studies."
"You were an excellent instructor," declared alumnus Richard A. Hamilton of Northrop Grumman Information Systems. "The MIS degree I received from CSUF has served me well in my career, and I fully appreciate your contributions to it."
Fellow faculty members also have seen her influence. Kung has been involved in curriculum development, creating several courses ranging from database management to decision support systems and software use and has developed eight different workbooks related to the courses she teaches. She has been a mentor to her fellow faculty members and served on several campus committees.
"Her student evaluations on a scale from 1-4, with 4 being 'excellent' ranged between 3.44 and 3.87 in every course she taught in the last decade," said Bhushan Kapoor, chair and professor of information systems and decision sciences. "This seems unheard of and clearly shows her deep love and dedication to teaching.
"It has been a delight to work with Dr. Kung," Kapoor added. "She is creative, intelligent and a great colleague."
"She teaches some of the most difficult core courses in the business curriculum, and she has done so while maintaining standards that challenge and engage her students without pandering to them," said James L. Dietz, acting associate vice president for academic affairs and a professor of economics. "Without doubt, she is one of the best within her department and within the Mihaylo College of Business and Economics."
Kung's research interests range from telecommunications and e-learning and e-commerce to statistics. She has published more than 40 articles in a wide range of business publications from the Journal of Operations Research to the International Journal of Innovation and Learning.
"I am very honored," said the business educator about the award. "I worked a bit with Carol Barnes before she retired, and she was an excellent teacher. It is an honor to be given an award named for someone who is so excellent."
Kung will be recognized as the Barnes Award winner at 2011 Honors Convocation, held on the eve of this year's commencement ceremonies May 21-22.
Media Contact:
Pamela McLaren, Public Affairs, 657-278-4852, pmclaren@fullerton.edu