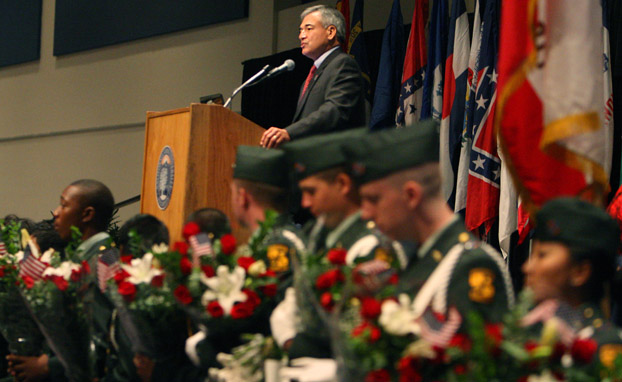 Caption: Orange County Superior Court Judge Frederick P. Aguirre speaking at the annual Veterans Day celebration on campus last year. Photo by Karen TapiaDownload Photo
Marking WWII 70th Anniversary
Event Honors Veterans, Families, Notable Latinos Nov. 5
Oct. 12, 2011 :: No. 43
Who/What: World War II veterans, including two Hall of Fame athletes, a nurse-philanthropist, a civil rights leader, a dancer-choreographer, an actor, a war hero and their families will be recognized at the 15th annual Veterans Day Celebration Nov. 5 at Cal State Fullerton. The event is free and open to the public.
When: Saturday, Nov. 5, 10 a.m.
Where: Titan Student Union's Portola Pavilion
Cal State Fullerton, 800 N. State College Blvd., Fullerton, 92831
More: Latino Advocates for Education will pay special tribute to seven deceased Latino World War II veterans: actor-producer-musician and Army veteran Desi Arnaz; civil rights activist and Navy veteran César E. Chávez, founder of the United Farm Workers Union; Guy Gabaldon, the Marine who was credited for capturing — or persuading to surrender — about 1,500 Japanese soldiers and civilians during the Battle of Saipan in 1944; military nurse Maria Dolores Hernandez, who at age 90 in 1997 left Cal State Fullerton's nursing program a hefty endowment for scholarships for nurses committed to working with impoverished populations; José Limón, Army veteran and founder of the José Limón Dance Group and Institute;Boxing Hall of Famer and Army veteran Manuel Ortiz; and Baseball Hall of Famer and Marine aviator Ted Williams.
Caption: Maria D. HernandezDownload Photo
About Maria Dolores Hernandez: Hernandez's family fled the Mexican Revolution and arrived in Fullerton in 1913 when she was 6. Fifteen years later, she entered Orange County General Hospital's Nursing School and became a registered nurse in 1930. Within a few years, she became Orange County Hospital's supervisor of communicable diseases.
In 1940, during WWII, she became the first Red Cross nurse from Orange County to be called into active duty as a second lieutenant. After the war, she transferred to the Air Force and was stationed at bases throughout the United States, the Far East and Europe. She acquired small properties wherever she was stationed, while rising in the ranks to major, and retiring after 20 years of service.
Returning to Fullerton, she joined Cal State Fullerton's Continuing Learning Experience (now Osher Lifelong Learning Institute), and upon her death in 1997, she gave almost $1 million to the university's Nursing Department to establish an endowment for scholarships.
Why: "This year is the 70th anniversary of World War II, and we must recognize 'the Greatest Generation,' our World War II veterans and their families, and highlight the patriotic contributions of Latinos to our country's defense through these seven famous Americans," said Orange County Superior Court Judge Frederick P. Aguirre, president of Latino Advocates for Education, the nonprofit organization that produces the annual veterans event.
Additional: An actor portraying Gen. Douglas MacArthur, a swing band and singers will provide entertainment.
Information: Call Latino Advocates for Education at 714-225-2499 or visit www.latinoadvocates.org.
Media Contact: Mimi Ko Cruz, Public Affairs, 657-278-7586 or mkocruz@fullerton.edu