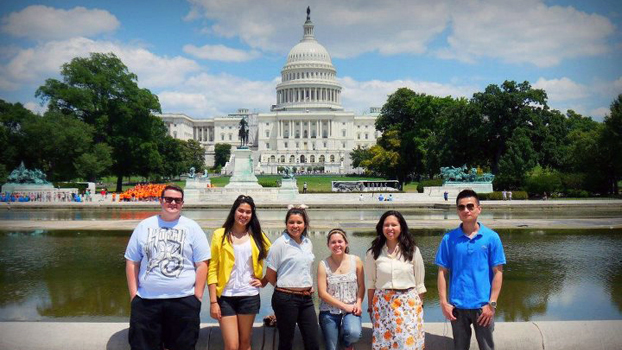 Some of this year's 35 Cal State DC program scholars are, from left: Mathew Lawton, Wendy Bonilla, Yvette Loaeza, Jessica Frietze, Paula Neri and Jonathan Wong.
Caption: from left: Mathew Lawton, Wendy Bonilla, Yvette Loaeza, Jessica Frietze, Paula Neri and Jonathan Wongfrom left: Mathew Lawton, Wendy Bonilla, Yvette Loaeza, Jessica Frietze, Paula Neri and Jonathan Wongfrom left: Mathew Lawton, Wendy Bonilla, Yvette Loaeza, Jessica Frietze, Paula Neri and Jonathan WongFrom left:
Capitol Knowledge
Students Gain Experience in Washington, D.C.
Aug. 3, 2012
They are seeing firsthand how America's government operates, how laws are passed, how Congress runs and how lobbyists, advocates and nonprofit organizations work to ensure their voices are heard. This year's class of 35 Cal State Fullerton students, participating in the Cal State DC program, are spending the summer interning in the nation's capitol.
The program, now in its seventh year, provides students with valuable educational and career development experience, said Stephen J. Stambough, associate professor of political science and director of the Cal State DC program.
Over the summer months, students intern for elected officials, nonprofit groups, lobbying firms and other agencies. In addition to the experience they gather from their internships, students receive six units of college credit — three for the internship and three for a political science class.
Including this year's interns, a total of 216 students have participated in the program since it began.
About 30 alumni of the Cal State DC program presently work in D.C. For example, Kelly Kim (B.A. public administration '12), who interned in the U.S. Department of the Interior's Office of Surface Mining last summer, now is working there as a Kettering Public Administration Fellow. 
Other alumni include Raisa Orleans (B.A. political science and American studies '08), who works as a legislative assistant for Rep. Henry A. Waxman (D-Los Angeles); Jeff Vanderslice (B.A. political science '07), who serves as legislative director for Rep. Dana Rohrabacher (R-Huntington Beach); and Ian Keller (B.A. political science '07) who works for the National Community Reinvestment Coalition.
"The experience not only helped me network but also gave me a much better understanding of how Congress works," Vanderslice said. "To me, the internship was the equivalent of a language immersion experience. Sure, the study of the subject is important, but being surrounded by and practicing it is just as important."
Vanderslice, who interned for Rohrabacher in 2006, began working for the Congressman a year later.
"The DC program has been so successful over the years because students get firsthand knowledge of how their academic studies can lead them in several different professional tracks," Stambough said. "Whether the student is interning in Congress, with a consulting firm or an embassy, the experience helps focus career goals at a critical time in life."
Due to its success in jump-starting D.C. careers for the interns, the program will be offered during the spring semester, as well as during the summer months, he said.
Since the spring program will be about twice as long as the summer program, interns will receive 12-15 units of course credit. Two courses will be taught by CSUF faculty members — Don Matthewson, lecturer in political science, and Patricia E. Literte, assistant professor of sociology. The program is open to students from all CSU campuses.
More information about the program is available online.
This year's Cal State DC interns include Eliza M. Ramirez, who is researching the connections between the law and environmental policies, Marc McCue, who is learning how to advocate for the homeless and Aissa R. Canchola, who is gaining a better understanding of the national concerns of Californians.
Investigating the Impoverished
Ca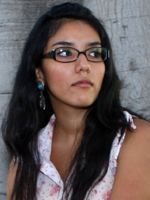 Caption: Eliza M. Ramirez
Download Photo
Ramirez, who is interning in the U.S. Department of Interior's Surface Mining office, is researching indigent communities in New Mexico.
"We are looking into census data and I'm seeing that New Mexico needs attention," Ramirez said, adding that her internship has taught her to study health and environmental concerns on a more global scale. "Some communities need basic things like clean water and other resources."
The 22-year-old undergrad said that upon completing her internship, she plans to apply for the AmeriCorp Vista program, a national service program designed specifically to fight poverty.
Ramirez said she wants to travel to New Mexico and work to help improve conditions for the poor, specifically through grassroots efforts and advocacy campaigns for better environmental conditions and laws. Then, in a year or so, she plans to apply to law school and pursue a career in environmental law.
Helping the Homeless
Caption: Marc McCue
Download Photo
McCue, once homeless himself, is helping to compile a resource guide of services available for service providers throughout the D.C. area as part of his internship with the National Coalition for the Homeless.
"Our guide aims to let people know how to care for the homeless, including homeless veterans," McCue said. "I've been there and if it weren't for people who cared for me, I'd still be homeless."
McCue, 21, has been raising awareness about homeless issues through public speaking engagements at colleges and service agencies, discussing the services available to help the homeless.
He plans to help by pursuing a master's degree in environmental policy because he wants "to work for sustainable living conditions and equal access to good food for everyone."
Sometimes, he added, "you become homeless because there is no affordable housing, or you lost your job, or you had to choose between a home or feeding your children. I just don't think that's right, especially in this country."
Constituent Concerns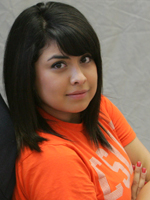 Caption: Aissa R. Canchola
Download photo
Canchola, worked in Sen. Barbara Boxer's (D-Calif.) office, addressing constituent concerns about a wide variety of issues.
"I get to know the concerns of Californians not only from my hometown or surrounding areas but throughout the entire state," she said. "I forward constituent messages to the senator by tallying their sentiments on legislative issues."
In addition, Canchola said she is taking part in a project on student loan debt, an issue "that is close to my heart, especially since I spent so much time advocating on behalf of students."
As part of the project, Canchola is compiling student testimonials on their experiences with student loan debt. She plans to make the stories public as a way to advocate for investment in higher education and for federal programs that make college education affordable for those who would not otherwise be able to pay for school.
"This project has allowed me to take my passion to the federal level and help the senator collect stories that she can use to defend students and protect them from misleading lenders," she said, adding that her internship experience "has provided new experiences and many opportunities to watch hearings and briefings of my choice, including a hearing on gender equity in education for the 40-year anniversary of Title IX in the Higher Education Act."
Canchola, 23, said she plans to pursue a master's in public policy and a law degree.
"Someday I want to run my own nonprofit organization, aimed at raising awareness of educational inequalities in our country and the ways in which one's location and income level determines the quality of one's education and future prospects," she said. "My ultimate goal is to eventually run for office and represent the new interests of my generation."
Meanwhile, the senator offered Canchola a position as a staff assistant. She begins her first day on the job Aug. 13.
A Donor's Perspective
When Victoria Vasques, a member of CSUF's philanthropic foundation board and the owner of Tribal Tech, LLC — a firm that provides technical assistant and consulting services to federal, state, tribal and corporate clients — first opened her Virginia home seven years ago to welcome the inaugural class of Cal State DC interns; there were about 40 in attendance.
"There were the students, of course, and faculty and university representatives," she recalled. "That was about it."
Today, more than 100 guests participate in the reception she has held every year since to welcome new interns into the program. The guest list includes the interns, alumni of the Cal State DC program, CSUF alums who live in the area, representatives from the agencies and offices where the interns work, elected officials, donors, university faculty and administrators and various dignitaries.
"It's heart-warming to see how committed everyone is to this program," she said.
In times of budget cuts, Vasques said she believes programs such as Cal State DC are more important than ever.
"This program provides an opportunity for students to see how the nation operates — even if only for a short while," she said. "Sometimes the students don't have their plans after graduation figured out and this helps clarify it for them. More and more alums of the program are ending up working in D.C. following graduation. They get a case of what I call 'Potomac fever' and want to purse opportunities here. This program helps set many on that path."
As a donor, she added, "I love it when students come up to me and introduce themselves. They are so appreciative and motivated and energetic. The Cal State DC program gives them the chance to get a little experience and hold their feet to the fire. They find out if their work in D.C. is really what they want to do or where they want to be. Since education has always been my passion, this is a wonderful way for me to give back."
Vasques also had high praise for the work of Stephen J. Stambough, the program's founder. "He has been amazing," she said. "I can see why the students love him. His commitment and energy is infectious."
To donate to the program, visit http://www.fullerton.edu/foundation/donate/index.asp.