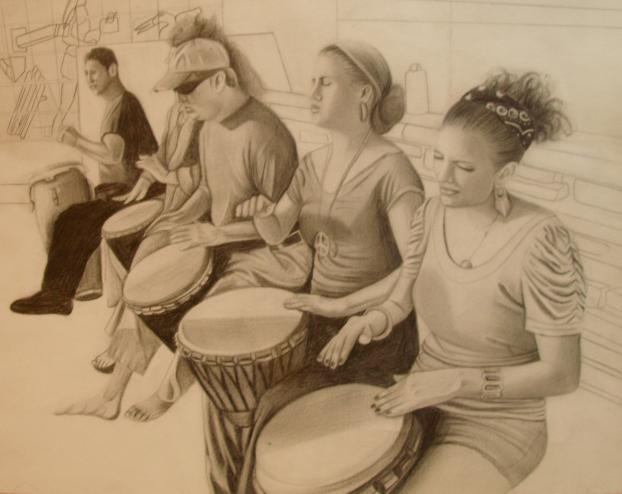 Caption: Student Natalie Salim created "Drum Souls," selected for the "Art 4 Health IV" exhibit. Her graphite drawing reflects the "unity and loving calm" of a drum circle.Download Photo
Cure for the Mind, Body and Soul
'Art 4 Health' Exhibit Features Student Creativity
Student artist Miranda Cortez creates art as a form of escapism for herself — as well as for others who view her drawings. "Art makes me happy, and I am a firm believer that the happier the person, the healthier they are," said Cortez, an illustration major. 
Through her illustrations, art student Natalie Salim creates images with the intention of healing. "Healing begins with a reminder of what it means to be human, to share intimate connections and deep, ancient, cultural roots. Through my work, I aim to remind people of where we, as a human race, have come from and where we are going." 
These and the art of 39 other students and alumni are showcased in "Art 4 Health IV: Healthy Body, Healthy Mind, and Healthy Spirit" exhibit that opened last fall and ran through July 31 in the Student Health and Counseling Center. "Art 4 Health V" will open in August.
Campus and community members are welcome to attend an opening reception in October. It will includes tours, food and an opportunity to meet the artists. The Arts Inter-Club Council, liaison for all the student arts clubs, hosts an art festival with music and art demonstrations. 
The juried show, presented by the Student Health and Counseling Center and the College of the Arts, gives students and alumni a venue to showcase art created to provoke, influence and inspire better health. 
"Artworks were selected based on their originality, use of media, artistic excellence and the artist's ability to inspire dialogue about the role of health inherent in the creative process," said Kathy Spofford, associate director of the center. 
The exhibit was developed to heighten awareness about the services offered by the Student Health and Counseling Center, which has about 45,000 student visits annually. 
"For the students who visit the health center, as well as the staff who work there, they are able to enjoy the artwork all year long. It creates a special, healing and peaceful feeling when patients view the artwork," Spofford said. 
Scholarships were awarded to "Best in Show" in the undergraduate category and one alumni winner received gallery space in the Titan Student Union. 
Due to the confidentiality of the health and counseling services provided, viewing is by appointment. Call 657-278-3946 for an appointment.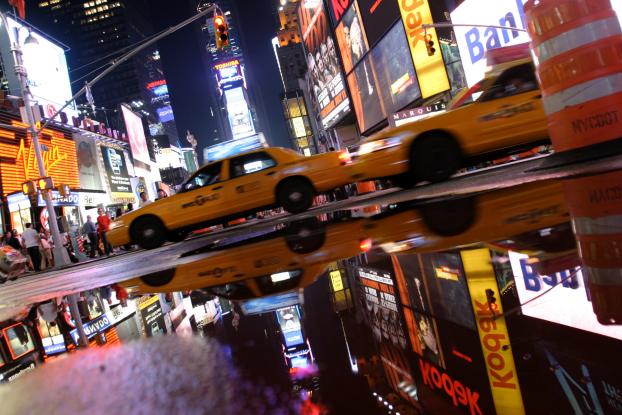 Caption: "Rush" by student Matthew Gush, was inspired by New York's Times Square, which he calls the "true echo of the New York spirit."Download Photo
Oct. 12, 2010 | Updated July 15, 2011