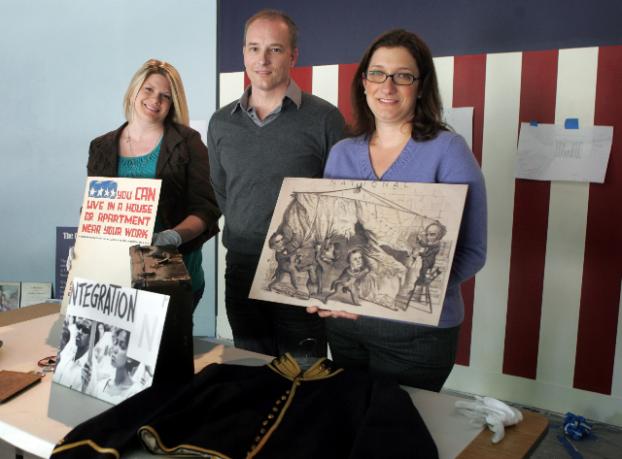 Caption: Benjamin Cawthra, project director of the upcoming civil rights exhibit, center, and curators Bethany Girod, left, and Michelle Antenesse, hold artifacts that will be on display at the Fullerton Arboretum. Photo by Karen TapiaDownload Photo
Bringing the Past to Life: A University Initiative
Show of Freedom
Museum Exhibition on California's Role in Civil War and Civil Rights History Open Through May 30 at Fullerton Arboretum
April 21, 2011 :: No. 126
What: "New Birth of Freedom: Civil War to Civil Rights in California," a free, public exhibit featuring oral histories and artifacts dating back to the Civil War, opens April 27 at the Fullerton Arboretum's Orange County Agricultural and Nikkei Heritage Museum. Cal State Fullerton's Center for Oral and Public History is sponsoring the exhibit. Additional events related to the exhibit, including a May 4 panel discussion on housing rights, are being planned.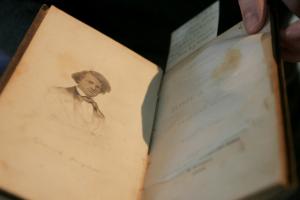 Caption: This book, "American Slave Written By Himself," by Frederick Douglass published in 1845, will be on display. Photo by Karen TapiaDownload Photo
When: April 27, 2011-May 30, 2012
Opening reception: 6:30 p.m. Wednesday, April 27
Exhibit hours: 10 a.m. to 2 p.m. Thursdays and noon to 4 p.m. Saturdays and Sundays
Where: Fullerton Arboretum, 1900 Associated Road, Fullerton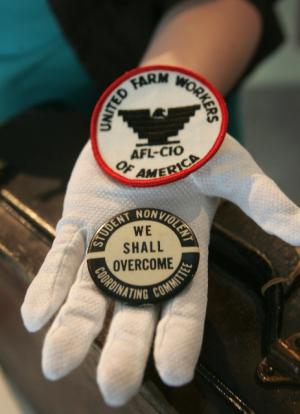 Caption: Civil rights artifacts, such as this patch and button, also will be on display. Photo by Karen TapiaDownload Photo
Opening Night:
6:30 p.m.-8 p.m.: Musician Stan L. Breckenridge, Afro-ethnic studies lecturer, and singer Ki Johnson, will sing "Go Down Moses" and a medley of freedom songs from the Civil War era; history majors Tom Fujii, Chris Horton and Radiance Santifer and alumna Maria Quintero (B.A. history '10) will recite excerpts from oral histories and 19th- and 20th-century documents; and the exhibit's curators will speak about creating the exhibit.
Who: The exhibit's project director is Benjamin Cawthra, assistant professor of history and associate director of the university's Center for Oral and Public History. The curators are graduate history majors Michelle Antenesse and Bethany Girod. The exhibit's designer is Becki Hartke.  Also working on the exhibit are students in Cawthra's public history class.
Why: "The Civil War era and civil rights movement traditionally are not associated with California history," says Michelle Antenesse, a graduate history major and co-curator of the exhibit. "This exhibit is an opportunity to place California in the national narrative of these two eras."
Issues:
The exhibition's content includes:
the debate over slavery in California
the status of ethnic minorities in the Gold Rush era
California's participation in the Civil War
Japanese-American internment during World War II
Southern California-based court cases that opposed discrimination in education, jobs and public accommodations
the stories of everyday Californians who put themselves on the front lines during the Civil War and Civil Rights eras
Interactive: Visitors will be able to listen to oral histories of local, regional and national civil-rights advocates. They include: those who helped integrate the Placentia School District in the 1950s, Westminster's public schools in the 1940s, and the LA Fire Department in the 1950s; and a Freedom Rider who fought to desegregate public transportation in the 1960s. Recordings of Cal State Fullerton professors and students performing readings of speeches or writings by Frederick Douglass and numerous other civil-rights figures also are featured.
Artifacts: On display will be artifacts ranging from a helmet worn by an African American firefighter in the 1940s and a replica of a uniform worn by a California soldier fighting in the Civil War, to United Farm Worker buttons, political cartoons, photographs, books and newspaper clippings.
Parking: Limited free parking for visitors to the Fullerton Arboretum from 8 a.m.-5 p.m.
Additional: This project was made possible with support from the California Council for Humanities, an independent non-profit organization and a partner of the National Endowment for the Humanities.
More Information: http://fullertonarboretum.org/museum_nikkei_future.php
Media Contacts:
Benjamin Cawthra, History, 657-278-7893, or bcawthra@fullerton.edu
Mimi Ko Cruz, Public Affairs, 657-278-7586 or mkocruz@fullerton.edu