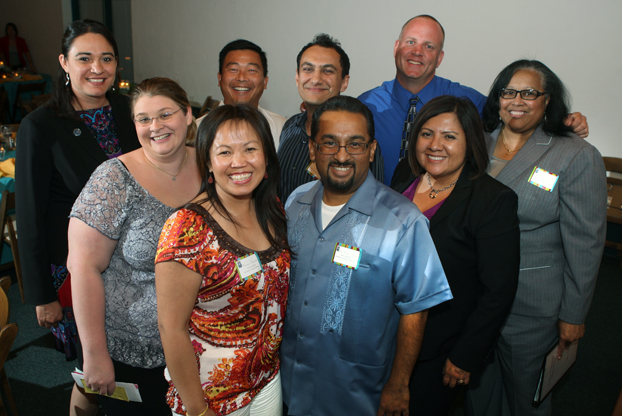 Caption: Twelve educators will be the first to complete CSUF's doctorate in education program with a concentration in community college leadership. Some of these doctoral candidates attended a recent College of Education banquet where they were recognized for their achievements. From left, front row, are Ketmani Kouanchao, Juan Carlos Astroga and Martha McDonald; back row, are Lily E. Espinoza, Crystal Barnett (staff, College of Education), Tran Hong, Shariq Ahmed, Eric Rabitoy and Dawn Person, program coordinator. Photo by Karen TapiaDownload Photo
Inaugural Class
Educators Earn CSUF Doctorates in Community College Leadership
May 13, 2011 :: No. 149
Twelve educators from across Orange County and the region will be the first to complete Cal State Fullerton's doctorate in education program with a concentration in community college leadership.
Some of these students, many of whom currently hold high-level positions at local community colleges, will complete the three-year program this month. Others will finalize their dissertation projects this summer.
"These graduates represent the best of what the community colleges in California have in leadership potential," said Dawn Person, professor of educational leadership and coordinator of the community college leadership program. "Their hard work in this doctoral program demonstrates a high level of commitment and investment in learning — and in the future of this state's educational system."
To meet the statewide need to prepare educational leaders at two-year higher education institutions, the College of Education's Educational Leadership Department launched the Ed.D. concentration in community college leadership in fall 2008.
The first class of doctoral candidates to complete the program will be recognized Sunday, May 22, during a hooding ceremony at the College of Education commencement exercise, beginning at approximately 10 a.m. in Titan Gym.
In fall 2007, Cal State Fullerton launched its first independent doctoral degree program in education to prepare leaders for California's pre-kindergarten through grade 12 schools. Last year, seven students were the first to earn doctorates in education in that concentration.
This year, 15 more are slated to complete the Ed.D. in preK-12 leadership program, which prepares educators seeking careers as school and district administrators, such as principals and superintendents, said Louise Adler, chair and professor of educational leadership.
These doctoral candidates also will be recognized at the May 22 commencement ceremonies, along with one student who will earn an Ed.D. in educational administration and leadership, a course of study previously offered through a joint doctoral program with UCI.
The CSUF doctoral program is designed for full-time working professionals. It includes three summers of study and two complete academic years of coursework, followed by a period during which the student advances to candidacy and undertakes the dissertation.
The inaugural class of Ed.D.-community college leadership graduates are: 
Martha McDonald of Anaheim
David Poole of Anaheim Hills
Lily E. Espinoza of Brea
Shariq Ahmed of Corona
Ann Hovey of Fullerton
Dana Hester and Eric Rabitoy of Glendora
Ketmani Kouanchao of Hemet
Huu Nguyen of Orange
Juan Carlos Astroga of Pasadena
Tran Hong of Tustin
Carol Mattson of Yucaipa
# # # 
Media Contacts:
Dawn Person, Educational Leadership-Community College Leadership, 657-278-5605 or dperson@fullerton.edu 
Louise Adler, Educational Leadership-PreK-12 Leadership, 657-278-7673 or ladler@fullerton.edu 
Debra Cano Ramos, Public Affairs, 657-278-4027 or dcanoramos@fullerton.edu