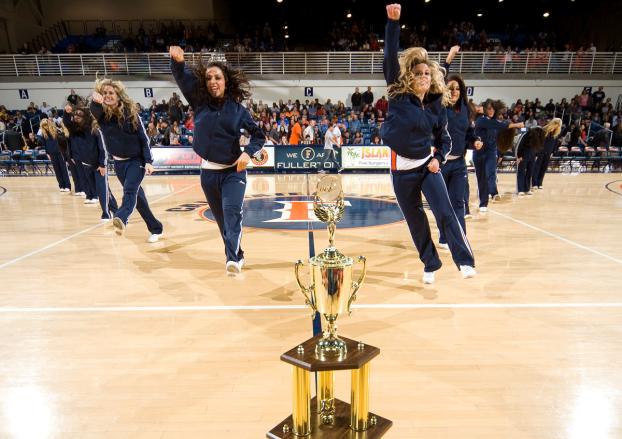 Caption: Titans Dance Team members perform at a recent basketball game. Photo by Bryan Crowe
Dancing Defense
Team Wins Championship for the 10th Time
THE WOMEN of Cal State Fullerton's Titans Dance Team have defended their title as national champions, capturing their 10th win at the Universal Dance Association 2011 College Cheerleading and Dance Team National Championship in Orlando.
At the competition earlier this month, the dancers bested runner-up Cal State Long Beach, which interrupted  Fullerton's string of titles in 2009 in Div. I (universities without football programs).
Caption: Sam Shen, left, and Jennie Volkert are the Titans Dance Team coaches.
"This was a pivotal year for our program," said alumna Sam Shen (B.A. communications-public relations '99), the team's co-adviser and coach and a former team member. "Not only did we come back to defend our national title, we also had the added pressure of winning our 10th. We are thankful for the tremendous amount of support from the Athletics Department, family and friends. We could not have accomplished our amazing goal without the network of our alumni who provided valuable feedback to our current team members."
The team's other co-adviser and coach is alumna Jennie Volkert (B.S. child and adolescent development '97), also a former team member. And, the team's choreographer is alumna Kenndra Alvarez (B.S. health science, '10).
The team is made up of undergraduates. They, their hometowns and their majors are:
Alexis Bravo, Fullerton, kinesiology
Melanie Bridge, Chino Hills, kinesiology
Krysten Dorado, Diamond Bar, kinesiology
Sarah Ellman (captain), Lake Forest, health science
Bernadette Green, La Habra Heights, communications
Kristina Gutierrez, Whittier, business administration
Chelsea Horn, The Woodlands, Tex., child and adolescent development
Lauren Knox, Yorba Linda, liberal studies
Briannah Lee, Monterey Park, dance
Kristi Licera, Alta Loma, dance
Nare Sahakyan, Glendale, biological sciences
Marisa Struzik, Morgan Hill, sociology
Nicole Warner, Yorba Linda, health science
Rebecca White, San Ramon, communications
"Half the team this year are freshman so it was challenging teaching them how important this competition is," said Volkert, who teaches third grade in Chino Hills in addition to coaching the team. "But, the commitment of the veterans made us so proud. They showed the rookies the ropes on what it takes to be national champions and I had no doubt that's what they would be."
The team will perform its winning routine at the university's homecoming game Feb. 5 in Titan Gym and at the United Spirit Association's College Spirit and Dance competition at the Anaheim Convention Center Feb. 26-27, when they will compete to retain that championship title as well.
Titans Dance Team is part of Cal State Fullerton's Spirit Squad, which includes Tuffy, the university's mascot, and 16 cheerleaders. The squad performs at every men's and women's basketball games on campus. They also make appearances at other games and at special events throughout the year.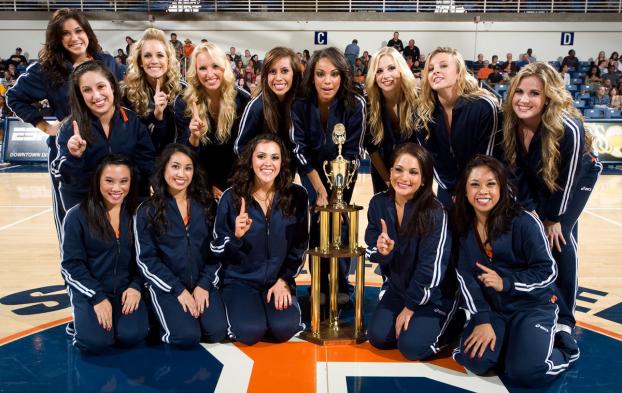 Caption: Titans Dance Team members pose with their championship trophy. Standing, from left: Lauren Knox, Alexis Bravo, Marisa Struzik, Melanie Bridge, Kristina Gutierrez, Bernadette Green, Nicole Warner, Sarah Ellman and Chelsea Horn. From left, kneeling: Briannah Lee, Krysten Dorado, Nare Sahakyan, Rebecca White and Kristi Licera. Photo by Bryan Crowe
January 24, 2011