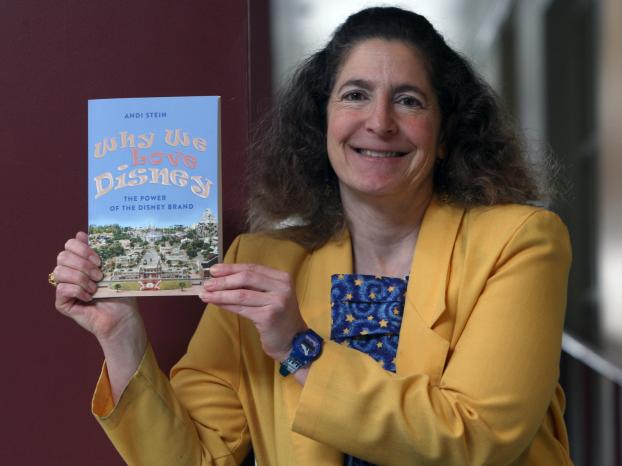 Caption: Andi Stein holds her first book. Photo by Karen Tapia
Why We Love Disney
Disney Fan Andi Stein Researches "Happiest Place on Earth"
ONE LOOK AROUND Andi Stein's memorabilia-strewn office, and you can tell she's a Disney fan.
She has taught classes on Disney and its impact not only on the entertainment industry but on business, culture and commerce as well. Her research now appears in her first book, "Why We Love Disney: The Power of the Disney Brand," published recently by Peter Lang Publishing, Ltd.
"Although I've been researching Disney for years, I started the book about 18 months ago," said Stein, associate professor of communications. "In the process, I spoke to fans, consumers and former employees of Disney, and visited several of the theme parks around the world. I deliberately didn't interview anyone at Disney because my focus was on how the brand managed to gain and hold such power throughout the decades and around the world."
Stein, familiar with the theme parks in California and Florida, visited Disney parks in Tokyo and Hong Kong in 2009 to see how they differed from their American counterparts.
"The Tokyo park is modeled after Disney World in Florida, however they also have a separate park called Disney Sea," she said. "This park focuses on all the waterways of the world — rivers, oceans and the settlements that developed near these waterways. For instance, there's a Mediterranean area, a New England fishing village and so on."
In Hong Kong, she said "the park is much smaller — more like the original Disneyland when it first opened in 1955. Originally, there were some complaints because it was smaller than the other theme parks but the Chinese weren't as familiar with the Disney characters as others throughout the world. Disney wants to expand into mainland China and Hong Kong is an international destination for travelers throughout the world. However, Disney still needs to 'educate' the Chinese citizens about the stories and characters."
Stein discovered the power of the Disney name while conducting her research.
"People just break into smiles and want to tell you about their positive experiences," she said. "We love Disney for many reasons — they're family friendly, their characters make us laugh and feel good, they're an escape from our troubles and people know what to expect. The Disney message is always, ultimately, positive."
Readers may also be surprised to discover how much Disney owns beyond its own characters.
"Most people don't know that Disney owns the Muppets," she said. "And last year, they purchased Marvel Entertainment. The trick for them is trying to figure out how to integrate these new characters into their culture."
Stein's book is divided into chapters that explore the company's history, characters, films, television, theme parks, music, theater and live entertainment, travel and tourism, sports, home entertainment and interactive media, marketing and promotion, merchandizing and global outreach.
March 23, 2011