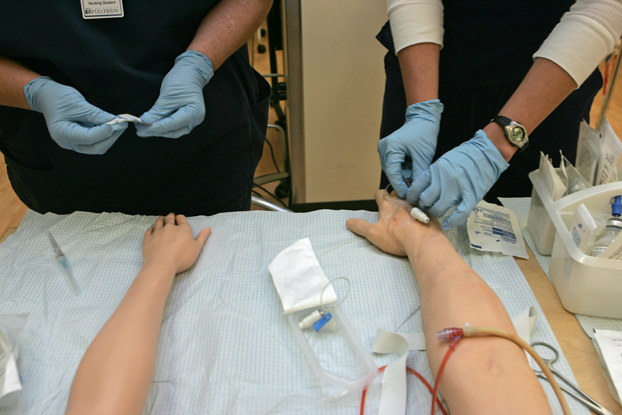 Caption: Students learn how to insert intravenous catheters in the UnitedHealth Nursing Skills Lab on campus. Photo by Karen TapiaDownload Photo
University Initiative: Health Care
Prepping for Nursing Doctorate
Student Infusion Set to Begin Next Fall
THE SCHOOL OF NURSING is ready to accept its first students in the doctor of nursing practice (D.N.P.) program next fall, pending final approvals by the California State University Board of Trustees and the accrediting organization, Western Association of Schools and Colleges.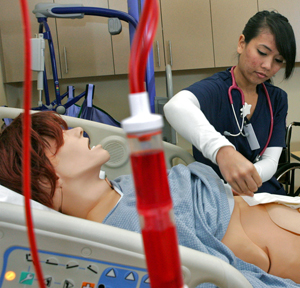 Caption: Nursing student Hillary Gaw gets hands on experience working on a simulated patient in the nursing lab. Photo by Karen TapiaDownload Photo
Hundreds of prospective students have expressed interest in the program, said Cindy Smith Greenberg, professor and director of the School of Nursing. The deadline to apply is Dec. 15, and 36 are expected to be accepted and admitted.
Offered jointly by Cal State Fullerton, Cal State Long Beach and Cal State Los Angeles, the program leads to the needed professional-practice degree that would qualify those who earn it to work in advance-practice fields as well as to work as faculty members at CSU and community college nursing programs, Greenberg said. Fullerton is the lead campus, and where the D.N.P. students will complete their first year of coursework.
D.N.P. students will be expected to complete 36 units of coursework in two years. Qualified applicants will already possess a master's degree in nursing or related health degree. A D.N.P. fact sheet is available for download.
"To prepare nurses at this level meets a community need and we're very excited about it," Greenberg said. "The program also helps achieve the recommendations of the 2010 Institute of Medicine Report on the future of nursing, which calls for increasing the education of nurses and doubling the number of nurses with doctoral degrees by 2020."
Those interested in the program are being offered information sessions. The next scheduled sessions:
Cal State Fullerton — 7 p.m., Wednesday, Nov. 16, in Room 605 of the Education Classroom Building
Cal State Los Angeles — 10 a.m., Saturday, Dec. 3, in Room 412 of the Simpson Tower Room 412
Cal State Long Beach — 10 a.m., Saturday, Dec. 10, in Room 64 of the School of Nursing Building
To RSVP for an upcoming information session, contact Amanda Ritter at aritter@fullerton.edu or 657-278-4301.
School of Nursing Stats
Cal State Fullerton's nursing program is one of the largest in the California State University system. Enrollment grew by more than 1,200 percent between 1998 (69 nursing majors) and 2009 (857 majors). By last semester, the number of nursing majors climbed to about 900.
"In this age of expanding health care knowledge, the D.N.P. prepares nurses for work in increasingly complex health care systems," Greenberg said. "To improve health care outcomes, the evidence generated by research must be translated into clinical practice. The D.N.P. prepares practitioners to evaluate the available scientific evidence and use it in clinical practice to provide best-practice interventions ultimately improving the quality and safety of health care."
One of the university's aims is to prepare more nurses to work in myriad settings, thus curbing the nation's nursing shortage, which is projected to reach 800,000 by 2020. In California, which ranks in the bottom five states for registered nurses per capita, the shortage is estimated to be as high as 50,000 by 2015.
Oct. 26, 2011