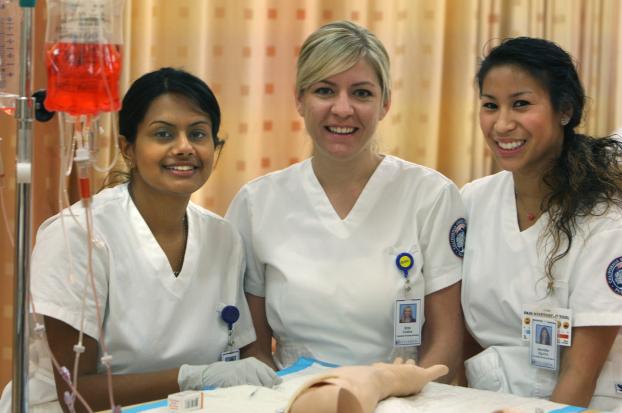 Caption: Graduate students Jolly T. Mannanal, left, Erin Avalos, center, and Jennifer Aguirre in Cal State Fullerton's UnitedHealthcare Nursing Skills Lab. Photo by Karen TapiaDownload Photo
Scholarships for Future Nurses
Graduate Students Receive Robert Wood Johnson Foundation and American Association of Colleges of Nursing Awards
Eight students in Cal State Fullerton's accelerated graduate nursing program each have received $10,000 scholarships, thanks to a grant from the Robert Wood Johnson Foundation and the American Association of Colleges of Nursing. It is the second grant from the two organizations; a third is expected next year.
The New Careers in Nursing Scholarship Program helps nursing students from groups underrepresented in nursing or from disadvantaged backgrounds.
This year's scholarship recipients — all working toward their master of science in nursing degree — and their cities of residence are:
  • Jennifer C. Aguirre, Fullerton
  • Erin E. Avalos, Newport Beach
  • Michael Grinenko, Orange
  • Jolly T. Mannanal, Fullerton
  • Bao Chau B. Nguyen, Irvine
  • Hieu M. Nguyen, Garden Grove
  • Kevin A. Ocampo, Chino Hills
  • Kristian E. Perfecto, Canyon Country
The students are among 511 future nurses nationwide selected for the scholarships. Cal State Fullerton is the only California State University campus among the 64 colleges and universities receiving the grant.
The scholarship "allows me to have balance in my life," said Mannanal, who has a bachelor's degree in physiological science from UCLA and a master's degree in public health from Loma Linda University. "When I started this intensive MSN program this fall, I quit my job as deputy director of a nonprofit health initiative in Ontario and the scholarship makes it possible for me not to have to work while going to school."
Mannanal is set to complete the program with registered nurse certification in 2013. She said her goal is to work as a nurse and build a career as a public health advocate.
"I'm interested in public health policy and making sure everybody, regardless of income or homeland, has an equal opportunity to health access," Mannanal said. "That's why I want to be a nurse. It's an important role and I'm really excited about the future."
The foundation and the association initiated a national initiative last year to alleviate the nation's nursing shortage by dramatically expanding the pipeline of nursing students and nursing educators in accelerated programs as well as to increase diversity. Twenty CSUF undergraduate nursing students received the $10,000 scholarship last year.
Students from underrepresented groups are being targeted because, according to the National Advisory Council on Nurse Education and Practice, diversifying the nursing profession is essential to meeting the health care needs of the nation and reducing health disparities that exist among many underserved populations.
As part of the award, students participate in a variety of leadership development and mentoring activities on campus, said Mary Wickman, coordinator of the university's pre-licensure RN program.
Cal State Fullerton created the entry-level MSN (2007) and BSN pre-licensure (2008) pathways in response to the estimated nationwide nursing shortage of up to one million nurses over the next decade. According to the Legislative Analyst's Office, California's share of that shortage will be more than 40,000 full-time nurses.
For more information about the university's nursing programs, visit http://nursing.fullerton.edu.
Jan. 4, 2011