Parking Structure Nears Completion
From Dateline (June 17, 2004)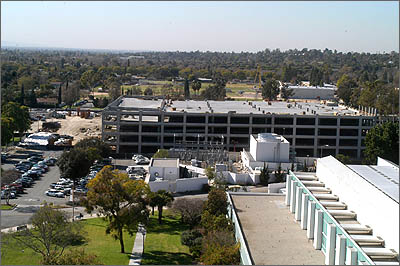 New parking structure. Photo taken in January 2004.
Students next fall will find some welcome relief when parking on campus, thanks to the projected summer completion of the Nutwood Parking Structure located in Parking Lots C and D. The five-level structure is scheduled to be ready for use on the first day of fall classes, Aug. 23.
The university broke ground last June for the first of two planned parking facilities on the west side of campus. When completed, the Nutwood Structure will provide 2,500 spaces for campus vehicles, as well as for patrons of the future Performing Arts Center. The additional parking spaces will increase the current parking capacity by 27 percent, noted Kim Apel, facilities planner. Construction on the State College Parking Structure in Parking Lot B is slated to begin in December.
Effective this fall, parking fees for students and non-represented employees (management, confidential assistants and employees of Associated Students, CSUF and University Advancement foundations) will increase to $144 per semester. Faculty and staff members will continue to pay $54 per semester and $36 for summer session/$12 a month via payroll deduction, unless they opt to pay the higher fees in order to be eli-gible to park in the Nutwood Structure.
For more information regard-ing parking fees and commuter programs, call 278-3082 or visit www.parking.fullerton.edu.