Marine Biologist
To Discuss Human Impact on Local Shores
BY DAVE REID
March 8, 2004 :: No. 170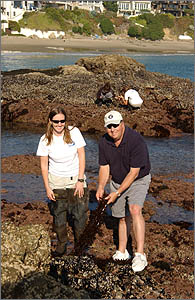 Steven N. Murray and biological science students conducting field studies in Laguna Beach.
Cal State Fullerton professor Steven N. Murray, a veteran marine biologist and one of only two Californians serving on the National Marine Protected Areas Federal Advisory Committee, will discuss "Science, Seashores, the Public and Marine Protection" Monday, March 15, at this year's Outstanding Professor Lecture.
The public lecture will be held at 11 a.m. in Portola Pavilion of the Titan Student Union.
Murray will present an overview of the research work he's conducted over the last 10 years with graduate students to evaluate the effectiveness of rocky shore marine life refuges. His examination of Orange County shores looks at the effects of the impact of visitors on rocky shore populations and communities.
In addition, he will discuss his experiences as a member of science panels convened to provide advice on improving coastal marine protection, and will address the roles played by the science panels and the public in marine-protected areas.
The professor of biological science has taught at Cal State Fullerton for more than three decades, and is recognized as one of the nation's leading authorities in the field of phycology (the study of marine plants), intertidal ecology and coastal marine conservation.
Murray has long been interested in the ecology of rocky shore plants and animals and how the activities of human have affected these organisms. He has obtained three instructional grants and multiple research grants worth more than $1.7 million since 1994. His research was used to support a bill in the legislature that banned the sale of several species of green, feather-like seaweed also known as killer algae that was for use in salt-water aquariums.
In January, Murray received an $87,750 grant from the Pacific States Marine Fisheries Commission in connection with his research on invasive species of algae.
"He is well-known around the world as a phycologist, ecologist, naturalist and conservation biologist," said Paul Dayton of the Scripps Institute of Oceanography. "Even as I sit here, I can think of people from at least six countries who have sung his praise to me. His papers are heavily cited and very highly regarded. Scientifically, he is a star."
"I have relied on Dr. Murray's research and advice for more than 20 years in conducting my own research and in guiding national park stewardship in California," noted Gary E. David, visiting chief scientist of the National Park Service, U.S. Department of the Interior. "He is recognized nationally and internationally as an outstanding marine ecologist and as a leader in developing, interpreting and applying science to major policy issues."
The Outstanding Professor Lecture is sponsored by the President's Office, Office of the Vice President for Academic Affairs, Academic Senate, President's Associates and the Faculty Development Center.

Media Contacts:
Steven N. Murray, professor of biological science, at 657-278-7291 or smurray@fullerton.edu
Dave Reid, Public Affairs, at 657-278-4855 or dreid@fullerton.edu