Cal State Fullerton Senior
To Share Research on Quakes

April 2, 2004 :: No. 200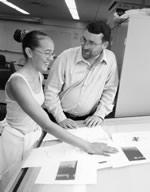 Julia Clark and geological science professor David Bowman
Julia Clark, a senior Cal State Fullerton geology major with a keen interest in earthquakes, will present a talk April 14 about forecasting quakes, at the annual national meeting of the Seismological Society of America in Palm Springs.
Clark's presentation, "Forecasting Earthquakes in Southern California Using the Stress Accumulation Method," is based on her original research, supervised by David Bowman, assistant professor of geological sciences. Her presentation will be part of the session "Toward Physics-Based Rupture Models."
"Julia has been looking at possible sites for earthquakes based on the background of seismic activity of large faults in the area," says Bowman. "It is highly unusual for an undergraduate student to speak at the conference, but her research is significant. She will be the only undergraduate speaker."
Clark, who is scheduled to graduate in June with a bachelor's degree in geology, is part of a team of researchers based worldwide who are working with Bowman to discover reliable warning signs of future quakes. Their research is funded by grants from the National Science Foundation, the Southern California Earthquake Center and the European Commission. Clark resides in Norwalk.
Bowman, who has received more than $160,000 in grants over the past two years to study earthquakes, also is scheduled to address the annual meeting.

Media Contacts:
David Bowman, assistant professor of geological sciences,
at 657-278-5436 or dbowman@fullerton.edu
Dave Reid, Public Affairs, at 657-278-4855 or dreid@fullerton.edu