New Well to Further Student-Faculty Research Into Local Water Quality
by Dave Reid
January 30, 2003 :: No. 137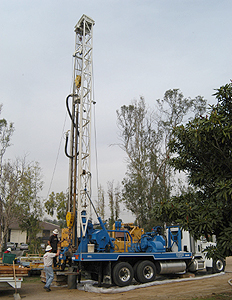 A 1,000-foot well was drilled on university property adjacent to Yorba Linda Boulevard by Beylik Drilling Inc. of La Habra. All services for the project were donated. The well will provide study and research opportunities for geological sciences students.



Download image
---
Geology majors returning next week to Cal State Fullerton for the spring semester will be able to take advantage of another learning resource, thanks to the generosity of a drilling company and other sponsors who donated $300,000 worth of services for a deep multiport monitoring well.
Drilling on the 1,000-foot well is scheduled for completion Feb. 1. on a one-acre parcel of university-owned land located on the north side of Yorba Linda Boulevard.
The monitoring well will provide a learning lab for students who will study water and soil samples, as well as providing much-needed information to the Orange County Water District, according to John H. Foster, chair and professor of geological sciences.
The Fullerton campus is the only California State University campus to have its own water well.
"The advantage of this," said Foster, "is that we can use the well for research and study any time. Other campuses have to schedule appointments and make arrangements with the owners of other wells for study and research purposes."
Beylik Drilling Inc. of La Habra donated well-drilling services. Work is scheduled to proceed on a 24-hour schedule until the 1,000-foot depth is reached. The well was dedicated to Myron Gutzman, a retired vice president of Beylik and a supporter of higher education. John Kennedy of Beylik is the drilling operation supervisor.
William R. Laton, assistant professor of geological sciences, is the project director. Last spring, he coordinated the drilling of 130-foot monitoring wells near the big lake of the Fu llerton Arboretum. Materials and labor for that project also were donated.

The new monitoring well is deeper and more sophisticated than the arboretum wells, according to Foster.
A monitoring well differs from a production well in that water and soil samples are extracted from the monitoring well and studied, noted Foster. A production well is one from which water is pumped or gushes forth for drinking, irrigation or other purposes.
The new well is a multiport well, which means that water can be monitored at various depths by opening the appropriate port. Thus, water can be tested at a maximum depth of 1,000 feet or at shallower depths. "This capability is significant because water quality can vary at different depths," said Foster.
During the drilling operation, CSUF representatives are present at all times. Graduate student Otto Figueroa, assisted by graduate student Rene Perez, oversees nightly operations. Campus police also are monitoring the drilling location.
The campus's Hydrology Field Lab, a large motor home equipped with sampling equipment, analytic tools and supplies, is parked on the site and functions as a mobile office for faculty members and research students.
John Riley of the Orange County Water District coordinated the district's involvement with the project, which will aid in water quality studies.
Media Contacts:
William R. Laton, assistant professor of geological sciences, at 657-278-7096 or rlaton@fullerton.edu
Dave Reid, Public Affairs, at 657-278-4855 or dreid@fullerton.edu