It All Adds Up For Veteran Mathematics Chair
by Dave Reid
From Dateline (February 5, 2004)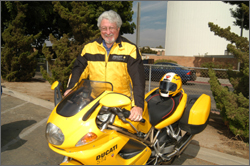 Two or three days a week, Jim Friel rides to campus from his home in Chino Hills on a yellow Italian Ducati motorcycle. The veteran biker has served as chair of the Mathematics Department since 1980 – one of the longest-serving department leaders on campus.
---
Jim Friel, chair and professor of mathematics, is a busy man. He zips to work often on his bright yellow motorcycle, avoiding traffic jams and the challenges of finding a parking space on campus. At work, the longtime department chair zips along an academic path lined with significant numbers.
A faculty member since 1973 and chair since 1980, Friel is the longest serving math chair within the California State University and one of the longest serving department leaders on campus. Friel reports with pride that Fullerton has the largest math department in the CSU, and one of the largest programs in number of students taking classes. Last fall, approximately 7,300 students were enrolled in a math course, including all entering freshmen, students needing remediation, about 300 math majors and 60 graduate students. The department has 32 full-time faculty members and about 68 part-time instructors.