There's Lots of Debate for These Professors
by Susan Katsaros
from Dateline ( January 30, 2003)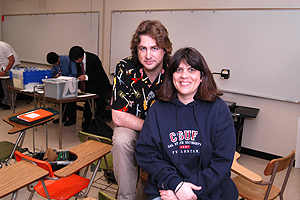 Jon Bruschke and Jeannie Congalton, associate professors of speech communication, direct the campus debate team, spending hours to prepare students to compete in numerous contests all over the country. In their spare time, they flex their debate skills in espousing their favorite baseball teams.
K. Jeanine Congalton and Jon C. Bruschke are both associate professors of speech communication and co-directors of the university's forensic team.
When two speech communication faculty members come together for an interview it promises to be a lively banter of information.
Bruschke earned a doctorate of speech communication from the University of Utah and his bachelor's and master's degrees in speech communication from Cal State Fullerton. Prior to coming to campus in 1997, he taught at Baylor University.
Congalton earned her bachelor of science degree in speech communication from Illinois State University; her master's from North Dakota State University; and her doctorate from the University of Utah. Prior to coming to Cal State Fullerton in 1989, Congalton taught at Fresno State.
Interestingly, Bruschke and Congalton coached forensics for a year while Bruschke finished his master's at Cal State Fullerton and Congalton remembers judging a high school competition in which Bruschke took part.
Both are devoted baseball fans: she for the Chicago Cubs, he for the New York Mets.