University Honors Three Staff Members for Service
Kathy G. Moore, Jim Powell and Sharnette Underdue have been given the 2007 Outstanding Staff Employee Awar
June 5, 2007
By Pam McLaren
One covered the duties of two in a busy office, one helped with the creation of a new college and the third help lay the foundation of the campus web sites.
In recognition of their achievements, their dedication and sense of purpose, Cal State Fullerton has honored Sharnette Underdue of Student Affairs, Kathy G. Moore of the College of Health and Human Development and Jim Powell of Information Technology with the 2007 Outstanding Staff Employee Award.
The three were recognized at Staff Appreciation festivities Friday, June 1, before a packed audience of their peers in Portola Pavilion of the Titan Student Union. They were part of a larger group of employees that had been honored throughout the year from different areas on campus - the Titan Excellence Award winners.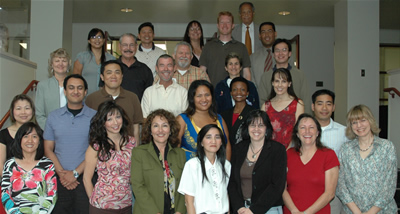 2007 Titan Excellence Award Winners: Staff members from across campus were
selected as this year's recipients of the Titan Excellence Award. Pictured here are from left, back row: Kathy G. Moore, Kathleen Cariaga, Bob Zepeda, John Luong, Jim Powell, Cathy Lampshire, Edward Read, President Milton A. Gordon, Roberto Coronel and Eugene Sim. Middle row: Valerie Nguyen, Shariq Ahmed, Howard Chang, Dennis Morris, Sharnette Underdue, Beverly Berekian, Gloria Sims, Cheryl Aranda and Long Tran. Front row: Ina Tjio, Mimi Ko Cruz, Peggy Bockman, Anhhoa Lu, Diane Mazzey, Bobbie Grayson and Jan Sheridan. Not pictured are: John Brockie, Cathy Busby, Sandeep Chopra, Debi Esquivel, Dayna Melton and Deena Robinson.
"This program has been in existence for many years," said University President Milton A. Gordon, "and each year the bar is set higher with the exemplary performance of our winners."
Sharnette Underdue
Sharnette Underdue has served on campus for about five years, and as resident director, lived on campus overseeing and organizing social, educational and cultural activities for those in the residence halls.
What made her position especially challenging was the departure of another resident director — most employees can leave their work, but Underdue was available all the time, said Darlene Stevenson, director of housing and residential life.
"She was on the front lines, responsible for overseeing the general health and welfare of the students living on campus," Stevenson said. "She's done it very well and most of all, without complaints. We're so proud of her."
In addition to serving in the role of two, Underdue "basically condensed about a year's worth of extra work into that six months, all of this on top of regular daily duties," said Gordon.
During that period, Underdue designed a four-day new resident orientation program for approximately 800 residents, advised the Resident Student Association, planned a two-week training program for the 21-resident adviser staff and served as the on-call professional every night.
"It took about two months to bring another professional on board to be at full staff," Gordon said, "but unfortunately, that person left after six months."
Again without a co-worker, Underdue shouldered the additional work and responsibilities.
"It is a credit to this individual's incredible work ethic that she continued to perform at a very high level and continued to be creative, show initiative and be a great team player."
The students "keep every day fresh and exciting," said the Brooklyn native who earned her undergraduate degree at Hartwick College and a master's in higher education administration from NYU before coming West with her actor husband. The fun part, she says is that it almost seems she never left college. "I continue to experience it through the students.
"I'm in awe that the university would give me this award," said Underdue, who began her new duties as acting associate director of housing and residence life the same day she won the award. "I'm floating on cloud nine."
Kathy Moore
Special assignments are nothing new for Kathy Moore, administrative support coordinator in the College of Health and Human Development. One example was her involvement in the formation of the colleges of Education and Health and Human Development, from the former College of Human Development and Community Service.
"Kathy assumed the lead role in assuring that files were properly sorted, organized and transferred and was readily available, warm and helpful in providing mentoring and support to the new dean's office staff in the College of Education," said Roberta Rikli, dean of Health and Human Development.
"Kathy went well beyond what was expected by, in the most competent manner, handling logistics, proving guidance to staff challenged by the process and, most importantly, always being a soothing influence," said Ashley Bishop, chair and professor of reading who served as acting dean of the College of Education when it was first established. "When times become challenging is exactly when Kathy can be counted on most."
Moore also has been involved in space planning, remodeling, refurbishing and relocation of faculty and staff offices. She was the point person for the college throughout the planning and construction of the dean's office complex and conference room, noted Rikli.
"Kathy Moore played an astronomical role as the project building coordinator," noted Tom Grayson, the project manager on the office construction. "She was tasked with daily assignments and coordination issues way beyond her normal scope of duties that helped make the project finish ahead of schedule."
Grayson added that as part of her responsibilities, Moore projected the impact of every element of the departments' needs, including placement of electrical outlets, voice data and equipment location — "and all in a timely cordial manner. Along with this, Kathy also had to keep up with her normal office work .… In my opinion, any person that acts in this capacity on any construction project should be recognized and given a medal of honor."
In her eight years on campus — she has served for more than 30 years within the CSU — "all who know and have worked with Kathy consider her to be among the 'very top' of all staff on campus with respect to her work ethic, professionalism, helpfulness and dedication," said Rikli.
"I've very grateful and surprised," said Moore, a resident of Fullerton. "It's a tribute to Roberta [Rikli] and Ellen [Junn, associate dean of the college]. It's a pleasure to work with them."
Jim Powell
Jim Powell, lead in web design and support in Information Technology, is known for his calm demeanor and humorous asides in whatever situation he have faced over the three decades of service. He's rarely at a loss for words but when he was named as one of this year's outstanding staff honorees, he said he was "stunned … it was completely unexpected."
Powell began with the university in 1976, when he was hired away from his alma mater, UC Irvine, to serve as a communications specialist in the Career Planning and Placement Center. His duties were later expanded in student affairs, where he had a hand in the development of several publications, including the first handbook for new students.
Powell moved to Public Affairs in 1983 where he coordinated the commencement program, wrote features for Titan News (precursor to Titan Magazine) and worked to move the production of university publications to the computer desktop. Among the first staff users of desktop publishing software, Powell shifted from writing to publication design and production, coordinating prepress layout of the catalog, commencement program, brochures, view sheets and other publications. He also was involved in the development of the current university logo and created the university's graphic standards and publications style manual.
When he joined Information Technology in 1999, he "immediately began to develop, with guidance of the web presence committee, a new look and feel for the campus website," said Susan Lasswell, director of IT administration and communications. "For his current Web Content Management project, he has designed the feasibility study, which includes designing and conducting two surveys to elicit campus web environment and technical data," Lasswell noted.
The web content management project will continue to bring a common look and feel to web pages — an effort he has been involved with for several years — as well as make pages easier to update, and help make web pages accessible to persons with disabilities, said Powell.
"Jim's unflappable demeanor enables him to effectively interact with individuals and groups; he has a remarkable ability to break a tense moment with appropriate humor to get a discussion back on track," Lasswell added. "He is equally comfortable being a team member, always accessible to his IT colleagues and others around campus."
The three recipients were presented with $1,500 checks from the Presidents Associates, as well as a personal plaque, season tickets to Titan athletics and cultural events, and special parking passes for the year. Their names will be added to a perpetual plaque.