A Four-Decade Standout
Norma Morris recognized at staff appreciation awards program
June 5, 2007
By Mimi Ko Cruz
Colleagues, professors, administrators and staff members throughout Cal State Fullerton share this opinion of Norma Morris, staff assistant to President Milton A. Gordon: "She has a positive can-do attitude and she has very warm, caring and thoughtful ways of making life special for others."

As part of Cal State Fullerton's Staff Appreciation Day Friday, June 1, Gordon quoted those remarks and similar ones as he recognized Morris, who has worked for the university for four decades.

"We celebrate you today on your 40 years of service and give you thanks for your enormous heart, your incredible memory and your complete love for this campus, its family, its students and our community," he told a teary-eyed Morris before giving her a CSUF captain's chair with the university emblem engraved on it.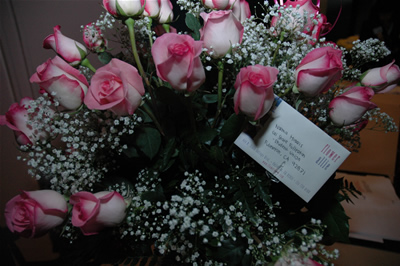 The cherry chair will be fitted with a plaque and displayed in Morris' Placentia home.
The 61-year-old veteran staffer has planned and handled details for countless events and written thousands of speeches, including convocation speeches topping more than 40 pages, for Gordon and three of his predecessors — Jewel Plummer Cobb, Miles D. McCarthy and L. Donald Shields. The only president she didn't work for was the first, William B. Langsdorf, but she bowled with him.

"My job is so diverse," Morris said. "There's never one day that's the same and I love the interaction with faculty, staff, students and alumni. These past 40 years went fast. I've enjoyed every single minute of it. I have so many fantastic memories of people who worked with me — students, faculty and administrators. There's nothing better than to be here at this university, helping to enable students reach their full potential and achieve their dreams."

After receiving her associate's degree in foreign languages from Fullerton College, Morris was hired in 1966 to work as a clerical assistant part-time for the Art Department and part-time for the Department of Foreign Languages and Literatures. In 1969, she was appointed department secretary of the then School of Interdisciplinary Studies, which housed the American studies, linguistics, religious studies, human services, Russian area studies, technological studies, and library science programs.

Morris began working as the staff assistant to the president in 1980. She beat 120 other applicants for the position.

The first recipient of the university's Outstanding Staff Employee Award in 1978, Morris has and continues to serve on numerous university committees, helping to organize scores of events each year.

She's been a member of the commencement committee for 27 years and has not missed a ceremony in as many years. Look past the dignitaries, and you can spot her darting around in the background, escorting speakers, giving handlers instructions and answering questions. Catch her sitting, and you're likely to see her wiping her eyes.

"I cry at commencement every year," Morris said. "I get emotional as the next class of students graduate and move on to achieve their goals in life because I know how dedicated and how hard they worked to reach this point in their lives and I know how our dedicated faculty, student affairs professionals and our staff have taught and mentored them along the way."

While the university has grown and she no longer knows all the employees, most of them know who she is and don't hesitate to call her at any time, even late at night and on weekends, "just as if it were normal business hours," Gordon said. "And, she's there."

Gordon said Morris can be counted on to recall and provide information about the campus, its people, visiting dignitaries, university donors and all sorts of statistics and historical trivia.

Two such examples:

Back in the late 1970s, a student called Morris, asking: "Is whatchamacallhim there?"

Morris answered: "Well, could you be a little more specific?"

The student responded: "He teaches criminal justice and I don't know his name or where I need to go for my final."

After getting a few more clues from the student, such as what the professor looked like, she figured out who the student was looking for and gave him the information.

Morris doesn't know if the student passed the class, but his call made for a funny and memorable story. As did the following:

"I had a president, who had only begun to meet the community at large, call me from lunch at the Velvet Turtle in Fullerton one day," Morris said, declining to divulge the chief's identity. 'The president said, 'Somebody is coming to my table and I need to be able to say the person's name.' So I said, 'Quick, tell me where you think you know the person from and what the person looks like.' From the description, I knew it was one of our major donors at that time, and I was able to identify the person for that president. Other times, calls like that weren't so easy, but I'll never forget that call."

Gordon certainly appreciates Morris' instant memory recall, and all she does for him and the university.

"Those who have worked with Norma note her unfailing good nature, kindness and humor, her willingness to mentor others and help them achieve their own professional and personal goals, in addition to the high quality of her administrative performance," Gordon said.
"I love this campus and just think it has done so much for the county and surrounding region," Morris said. "We're the hope for students, especially first-generation students, who come here and that's what it's all about."