Faculty Leadership in Collegial Governance Award
Longtime Professor and Campus Leader Jack Bedell Is Honored
June 5, 2007
By Valerie Orleans
Five times his peers have elected him to lead the Academic Senate. This year, they decided that he deserved the Faculty Leadership in Collegial Governance Award.
John W. Bedell, professor of sociology, chair of Anthropology and a member of the campus community for 38 years, was honored May 17 for his long-standing and significant contributions to collegial governance and the mission of the California State University.
"Each of your terms [on the Senate] was marked by significant accomplishments including the establishment of a new campus civility statement, and the creation of new committees focusing on vision and academic quality, as well as campus facilities and beautification issues," said President Milton A. Gordon before a large audience of Bedell's peers during the last 2006-07 academic year meeting of the Academic Senate.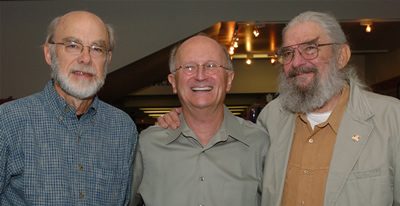 Congratulating Jack Bedell, center, on being the latest recipient of the university's Faculty leadership in Collegial Governance Award, are, J. Vincent Buck, left, and inaugural recipient, Harvey Grody.
Under Bedell's leadership, the faculty body undertook the review and development of new policies, procedures and programs while taking a systematic approach to reviewing and updating all the university policy statements for accuracy and currency.
"You have led us through difficult discussions … all in a spirit of collegiality, fairness, passion and, of course, with your wonderful sense of humor," Gordon said.
Bedell was presented with a plaque and a check — which he in turn donated to the faculty fund that provides for memorials, flowers for colleagues who are ill and assists faculty in need.
With his wife, daughter and granddaughter in attendance, Bedell told the assembled group, "I am really, really surprised. I look around this room at all of you and I have so many great memories. My family and I moved to Southern California in 1969 and we have always lived in Fullerton. Since I started teaching at Cal State Fullerton, I have worked for four presidents and have seen so much change. Yet here, at this university, we have always had the ability to work on policies and programs that affect our faculty, staff and students."
During his years on campus, Bedell has served several terms as chair of Sociology, as well as chair of the departments of Child Development, Electrical Engineering and, most recently, Anthropology. He served two terms as director of the Faculty Development Center, as well as acting vice president for academic affairs.
Bedell has served as chair of the systemwide Academic Senate for three terms and as acting vice chancellor of academic affairs for the California State University.
While taking on these leadership roles, Bedell has continued to teach classes that fill up quickly because students recognize him as an outstanding teacher.
"Jack's classes have introduced thousands of students to sociology and shown them what it means to be taught by a master teacher," said Gordon.
In addition to his campus service, Bedell has served as president and vice president of the Fullerton Civic Light Opera Board of Directors; nine years as a member and two terms as chair of the Fullerton School District Board of Education; and as vice president of the Orange County School Boards Association. He has served as a trustee on the Orange County Board of Education, and is president-elect of the California County Boards of Education.
"I want to encourage the younger faculty members to become involved in programs and committees that affect the university," he said. "And don't be afraid to try even if you may lose. There's life after loss. When I first ran for a seat on the Academic Senate, I lost. When I first ran for the executive committee, I lost. When I first ran for chair of the Senate, I lost.
"But after I lost the chair's race, I was asked by Jane Hipolito, [emerita professor of English, comparative literature and linguistics,] who won the seat, if I could work with her. It's that sense of collegiality that allows us to move forward."
Previous recipients of the Faculty Leadership in Collegial Governance Award

2005-06

Lee Gilbert, emeritus professor of modern languages and literatures

2004-05

Jane V. Hall, professor of economics

2003-04

Sandra Sutphen, emerita professor of political science

2002-03

John A. Olmsted, emeritus professor of chemistry and biochemistry

2001-02

Barry Pasternack, chair and professor of information systems and decision sciences

2000-01

Joan V. Greenwood, emerita professor of English and comparative literature

1999-00

J. Vincent Buck, emeritus professor of political science

1998-99

Harvey Grody, professor of political science