Two Members of CSUF's Class of 2004 Named Fulbright Scholars
May 28, 2004 :: No. 270
Two students who will take part in commencement ceremonies at Cal State Fullerton this weekend soon will be packing their bags for trips abroad as Fulbright Scholars.
Political science major Sylvie Widjaja of Walnut is scheduled for a nine-month stay in Singapore, where she will examine that country's role and its relationship with the United States in the war on terrorism. Stanton resident Trangdai Tranguyen, a graduate history major, is headed for Stockholm University in June to study the Vietnamese immigrant community in Sweden.
Sponsored by the State Department, the Fulbright U.S. Student Program offers opportunities for recent graduates, postgraduate candidates, and developing professionals and artists to conduct career-launching study and research abroad.
Widjaja, who came to California when she was 9, jump-started her college career by passing the GED and enrolling at a community college at the age of 15. She soon became interested in political science, but the desire to delve into terrorism and its root causes developed while attending a National Security course taught by Chad Briggs, assistant professor of political science at Cal State Fullerton. He reports being stunned when he learned that the young woman surpassing many senior ex-military students in the course was only 18 years old.
"I have been teaching at the university level in three countries since 1995, and I do not hesitate to say that Sylvie has the most potential of any student I have yet encountered in my career. She is exceptionally bright, quick to learn, and her dedication and sense of responsibility to her goals is quit remarkable," says Briggs.
Widjaja is a member of Pi Sigma Alpha, the political science honor society, and was a member of its executive board for 2003-04. She also is a member of the national Golden Key Honor Society, as well as the University Honors Program. She is a teaching assistant for two upper-division political science courses and is a member of the CSUF Model United Nations Team. She was a paper presenter at this year's Western Political Science Association Conference in Portland.
The issue of terrorism has intense general and personal interest for the Indonesian-born scholar. "Since 9/11, there have been several bombings in Jakarta, so it hits close to home," she said.
When she returns from Singapore, Widjaja hopes to enter a doctoral program in political science and specialize in the politics of Southeast Asia. She is pondering a career as a university professor or a counterterrorism analyst.
"In an age of globalization and complex interdependence, nation-states become more and more susceptible to terrorist attacks, thus significantly increasing the important of international collaboration," notes Widjaja, who will attend National University of Singapore while conducting her research, beginning in July. "Fighting this war on terrorism requires us to once again acknowledge and remember the words of John F. Kennedy: 'We seek not the worldwide victory of one nation or system but the worldwide victory of man.'"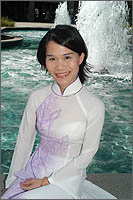 Trangdai Tranguyen
Tranguyen, who will participate in commencement exercises Saturday, is learning Swedish in preparation for her studies that begin next month at Stockholm University.
She presently serves as the director of the Vietnamese American Project, a research initiative based out of the university's Center for Oral and Public History. In studying the Vietnamese American community in Southern California, she has drawn upon and perfected skills in documenting the personal experience of first-generation immigrant populations through oral history.
"I have come to appreciate oral history for its democratic, human and intimate qualities in research, conducing better understanding and human solidarity," she noted. "I look towards conducting research in the Vietnamese Diaspora to bring forth the beauty of world cultures through migration and acculturation experience of ethnic Vietnamese communities across the continents."
Of Vietnamese immigrants in Sweden, Tranguyen will document their immigration experience, their lives and prospects in their adopted country, and how the Vietnamese culture interacts with pan-European cultures.
Following her Fulbright studies, she plans to pursue doctoral studies in the area of social and cultural anthropology in the United States.
"As a representative of your country in Sweden, you will help fulfill the principal purpose of the Fulbright Program, to increase mutual understanding between the people of the U.S. and the people of the 150 or so countries that currently participate in the Fulbright Program," stated Steven J. Uhlfelder, J. William Fulbright Foreign Scholarship Board chair.
Media Contacts:
Pamela McLaren of Public Affairs at 657-278-4852 or pmclaren@fullerton.edu
Susan Katsaros, Public Affairs 657-278-4854 or skatsaros@fullerton.edu