Outstanding Graduate and Seniors Honored by Alumni Association
May 24, 2004 :: No. 257
Trangdai Tranguyen, Adam Byrnes and Cynthia Tran are being honored by the Alumni Association during Cal State Fullerton's 45th annual commencement festivities.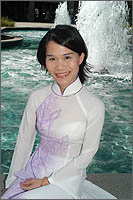 Trangdai Tranguyen
Tranguyen, recipient of the Outstanding Graduate Award, and Outstanding Senior Award honorees Byrnes and Tran each will receive $1,000 and commemorative plaques at the university's annual Honors Convocation Friday, May 28, on the eve of commencement ceremonies.
The awards are presented to the graduating CSUF graduate student and seniors who are academically outstanding; demonstrate service to their departments, university and/or community; and are active in extracurricular, academic or professional activities.
As a 2001 CSUF undergraduate, Stanton resident Tranguyen was a quadruple major — English, liberal studies, child and adolescent development and ethnic studies-Asian American studies — of which she says, "I had fun. I came here from Vietnam when I was 19, and I wanted to catch up. As an immigrant, people were afraid I wouldn't make it, but I considered it a great privilege and a great opportunity. It took time management and determination."
Upon receiving her master's degree in history, Tranguyen will prepare for her next journey, as a Fulbright Scholar. She will head to Stockholm University in June for half of her fellowship, where she will work in the area of social anthropology, researching first-generation Vietnamese immigrants in Stockholm. The second half of her fellowship will find her touring Europe, conducting similar research and field observations among Vietnamese immigrants. As an interviewer in the university's Oral and Public History Center, she worked on the Vietnamese American Project, which captured the experience of the Vietnamese-American community in Orange County. Incorporating audio and video recordings, she will use similar techniques during her studies abroad.
Upon her return to the states, Tranguyen aspires to earn a doctorate in anthropology, teach at the university level, conduct research and promote research among students. "If you do good research, it benefits students and also people in general. "
Recently, she won first place in the humanities and letters category of the 18th annual CSU Student Research Competition for her work "Orange County, Yellow History: An Intimate Encounter With Vietnamese American Lives."
In addition to a full academic life, she is active in her church, and has served as a volunteer tutor, language teacher and translator. Tranguyen also has worked in nursing homes, raised money for flood victims in Vietnam and Central America, and helped organize a variety of benefits and fund-raisers.
In her nomination letter for honoree Byrnes, Sandra Sutphen, acting director of the Faculty Development Center and professor of political science, says of the Fullerton resident," What makes him a very successful student — and what will make him a great success in his career — is that he is constantly seeking more: more experience, more learning, more avenues to expand his base of knowledge."
Byrnes is a double major — political science and American studies — and has taken advantage of various on- and off-campus opportunities to enhance his university experience. He served as an intern in the Sacramento office of state Sen. Joe Dunn and the Washington, D.C., office of U.S. Rep. Loretta Sanchez. His activities on campus included serving as director of statewide affairs for the Associated Students, senior photography editor for the Daily Titan, student representative to the Academic Senate, member of the Model United Nations and student representative to the Cal State Fullerton Foundation.
He has been on the Dean's List for eight semesters, and among the scholarships and awards he has earned are membership in the Golden Key Honor Society and the Leon and Sylvia Panetta Institute Congressional Internship.
Among his options following graduation are pursuing a master's degree in public policy at Rutgers University or George Washington University, a Coro fellowship in San Francisco and a California state Senate fellowship.
"Eventually," says Byrnes, "I'd like to go into politics. For now, I want to do multiple things in politics — work for a public servant, learn how to run a campaign, learn how to raise funds, get a wide range of experience in the political realm."
Asked about any achievements or moments of which he's most proud, he replies, "The rally that I was part of the coordinating effort — protesting the state's proposed budget cut. When I look back at the pictures, it's pretty amazing."
Among her 2,300 hours of service in the community and local classrooms, West Covina resident and future teacher Tran cites one experience that made an indelible impression: "working with special education children — 3 months to 3 years old. They're very adorable and very sweet. Although it takes a little more time for them, they're just like other children."
In addition to her work in the classroom, Tran — who grew up in Anaheim — has volunteered for numerous community interests, including Special Olympics, serving Thanksgiving dinners at St. Michael's soup kitchen, packing food items for a food distribution center, YMCA crafts and arts day, beach/park cleanups, Paint Your Heart Out Anaheim, spending time with abused children at Olivecrest and being a 'big sister' to children at Halcyon homeless shelter.
She has distinguished herself on campus in many ways, including as representative to the Credential Student Advisor Board, lifetime member of Phi Kappa Phi Honor Society, program facilitator for EMBRACE (Educating Myself for Better Racial Awareness and Cultural Enrichment), Dean's List for every semester, University Honors Program, Student Leadership Institute and member of the Student California Teachers Association.
Also a double major — child and adolescent development and French — Tran spent her junior year in France and discovered much about herself. "I learned that I am very flexible and adjust and adapt to new environments — learning the language, learning the culture. I found I have the strength to find the resources to survive, or find others to help me."
Media Contact:
Gail Matsunaga, Public Affairs, at 657-278-4851
or gmatsunaga@fullerton.edu