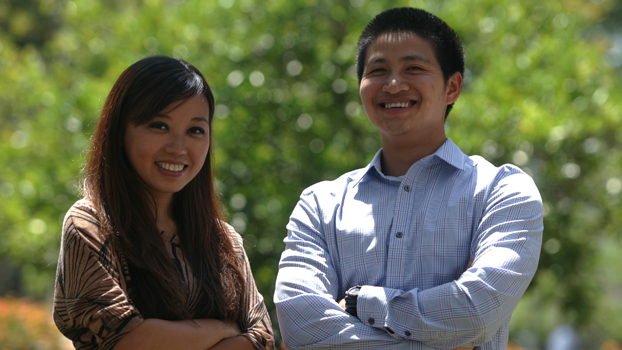 Caption: Qianna Liu and Alex Nguyen will study osteopathic medicine at Western University of Health Sciences;  the Health Professions Advising Office helped them get into medical school. Photo: Karen Tapia Download Photo
Bridge to the Health Professions
Students Gain Med School Admission With Help From Others
June 27, 2012
For more than 50 years, the university's Health Professions Committee members, in concert with the Health Professions Advising Office, have assisted Cal State Fullerton students in gaining admission to medical and other professional schools. This fall, 28 alumni will begin graduate studies for careers in medicine, dentistry, osteopathy, pharmacology or veterinary medicine at institutions around the country, including Johns Hopkins, Columbia, Temple, UC Berkeley and USC. (See sidebar.)
For Cal State Fullerton alumnus Alex Nguyen, it was one thing to aspire to become a medical doctor, and another to get accepted into medical school.
Yet, in August, Nguyen will start the doctor of osteopathic medicine program at Western University of Health Sciences in Pomona to fulfill his goal of working as a physician in medically underserved communities.
As an undergraduate, Andrew M. Surman had the opportunity to conduct research involving Alzheimer's disease. The work, under the guidance of Nilay Patel, assistant professor of biological science, solidified his love for science and furthered his interest in a career in health care. This fall, the 2011 alumnus, who earned a bachelor's degree in biological science, will begin studies at the UC San Francisco School of Medicine.
"Starting at UCSF is an amazing blessing. Being that it is arguably one of the best medical schools in the country, I could not be more excited for this opportunity," said Surman, who hopes to become a radiologist. "UCSF is one of the best places to be, due to the school's strong radiology preparation courses and excellent academic radiology department."
Both future physicians laud CSUF's Health Professions Advising Office and Health Professions Committee, a group of faulty members and administrators from throughout the university, for helping them land a coveted spot in medical school, for giving them direction and support to realize a career in health care.
Nguyen, who lives in Westminster, praised the mentoring he received from Christina A. Goode, professor of chemistry and biochemistry and the office's director, and staff member Julianne Stern.
"Dr. Goode and Julie are very passionate about helping the students and giving us the best advice; I owe them a lot," said Nguyen, who earned his bachelor's degree in biological science last year,
Surman agreed. "It is one thing to be prepared, but the advising office helps build your confidence in your desire to enter into health care, which is most important because as an undergraduate, you are always second guessing yourself," said the Irvine resident.
Professional School Ties
The late Miles D. McCarthy formed the Health Professions Advising Committee in 1959 and founded the office in the mid-1960s to assist students with applications and references.  
Over the years, 1,697 CSUF alumni associated with the office have been accepted to medical and other professional schools, according to Goode and Stern.
This year, the office team advised more than 1,000 undergraduates in majors from the sciences to the humanities, high school students, and postbaccalaureate students enrolled in the Pre-Health Professions Certificate Program offered through University Extended Education. The program prepares individuals who earned non-science degrees for health professions school admission.
Building on the strong ties McCarthy developed with institutions to tap CSUF students' academic excellence and readiness for the rigors of medical and other health professions schools, the advising office in 2010 began developing linkage agreements to select schools as another pathway.
These formal agreements offer early acceptance to the various schools, guaranteeing CSUF students a slot if they meet qualifications, Goode said. Up to four CSUF students per school, per year can be admitted to these linkage schools.
Linkage programs not only accelerate the application process, they eliminate the need to apply to multiple schools, significantly reducing the cost of the application process and travel expenses for interviews, which can cost up to $5,000 each application cycle, Goode added. Also, postbaccalaureate students can skip taking a year off, known as the "glide year" to prepare applications, before entering professional school.
The advising office has linkage agreements with George Washington University; Western University of Health Sciences, College of Osteopathic Medicine of the Pacific; Lake Erie College of Osteopathic Medicine; Western University of Health Sciences, College of Podiatric Medicine; and Lake Erie College of Osteopathic Medicine, School of Pharmacy.
"By having these linkages, the question is 'What does the medical school gain from us?' For George Washington University, they're looking for quality, mature students — individuals who are career-changers; for schools like Western University, they're looking for diverse students who will increase the diversity in the health professions," explained Goode. "We've become a pipeline to give these institutions the kind of students they want in their programs."
In addition to advising students, the office facilitates volunteer opportunities and "shadowing" of health care and other professionals, which is not only a must for applications, but also helps students decide if the profession is right for them, Goode said.
Benefits of Community Service
Qianna Liu of Orange, who completed the postbaccalaureate Pre-Health Professions Studies Certificate Program this year, performed a variety of community service that reinforced her decision to pursue medicine, as well as strengthened her application for medical school.
Liu volunteered at a local clinic, got involved with medical activities with the American Medical Student Association and traveled to Kenya during the summer of 2010 to volunteer at a hospital near Nairobi.
"These are all important experiences I had during the certificate program, which gave me insight about the health care field. The Health Professions Advising Office does a great job in making sure premed students extend beyond just the academics," she said.
Liu studied sociology and anthropology, earning a bachelor's degree in 2008 from UC San Diego. She will begin the doctor of osteopathic medicine program at Western University of Health Sciences in August and plans to pursue a career in family practice or pediatrics.
During his CSUF undergraduate studies, Nguyen was involved with the Student Health Professions Club and performed more than 400 hours of volunteer work in health care, including at a community clinic, a homeless shelter and at St. Mary Medical Center in Long Beach. He also traveled to Mexico on medical mission trips.
"These were all amazing experiences. I helped patients, worked with nurses and doctors and scrubbed into operating rooms. By doing these volunteer activities, it made me realize that this is what I wanted to do, that I could do it — and that medicine was my calling," said Nguyen, a Vietnamese immigrant.
The extracurricular work in health care settings Surman performed while at the university not only tested his own desire to become a doctor, but also gave him a real-world view about what it takes to be successful in the medical field. He shadowed an emergency room doctor, worked in a hospital and volunteered with organizations, such as the Flying Samaritans, which delivers care to the poor in Mexico.
"Television glorifies medicine, portraying doctors almost as super heroes, but as I have learned from volunteering and community service, any position in medicine requires a selfless attitude of unconditional service," Surman said. "The long hours of a physician are required because sick people have needs, and doctors are not super heroes."
For more information, visit the Health Professions website.