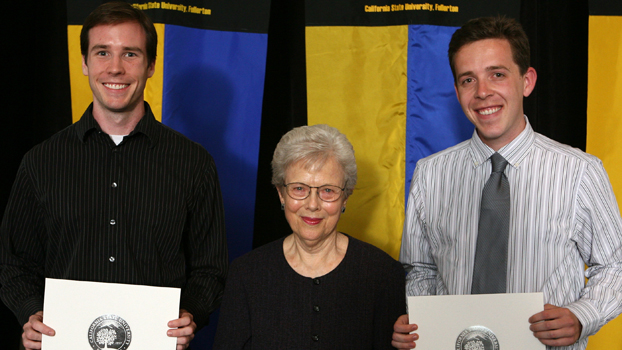 Caption: Martha McCarthy, widow of the late Miles D. McCarthy, presented Christopher Brophy, left, and Nathan Bales, with the university's Miles D. McCarthy Health Professions Award at the recent College of Natural Sciences and Mathematics Awards Reception. Photo: Greg Andersen Download Photo
Health Professions Award Recipients
Future Physicians Start Medical School This Fall
June 7, 2012
As Cal State Fullerton students, Nathan Bales and Christopher Brophy embarked on a path of study to become doctors. Along with their course work, they engaged in hospital volunteer efforts and other health-related activities that prepared them for the rigors of medical school.
In August, both will begin fulfilling their dream at top medical schools. Because of their outstanding achievements as students, each is a recipient of CSUF's 2012 Miles D. McCarthy Health Professions Award.
Bales, who was awarded the undergraduate honor, graduated summa cum laude with a bachelor's degree in biological science in May 2011 and will attend Johns Hopkins University School of Medicine in Baltimore. Brophy, who completed the Pre-Health Professions Studies Certificate program last spring, will study at Keck School of Medicine at USC. He was this year's recipient of the postbaccalaureate award.
Two top scholars are recognized each spring by the Health Professions Committee — composed of university administrators and faculty in the sciences, math and humanities — who present the awards, in recognition of high academic achievement, integrity and a commitment to serve humanity.
"It's really an honor to be selected for this award. Starting out at a community college, I always hoped I would make it to medical school, but knew it would be an uphill battle," said Bales, an Orange resident. "It's exciting to think about what can be accomplished when students are placed in the right kind of environment. I consider this award to be another demonstration of the support that I received at Cal State Fullerton."
Brophy of Buena Park credits faculty members for helping him excel as a premed, postbaccalaureate student: "The professors here seemed delighted with students who put in the extra effort to really learn and master the material. They tended to reciprocate with extra effort of their own — and that alone deserves an award and recognition."
The award is named in honor of Miles D. McCarthy, the late faculty member who founded the Health Professions Committee more than 50 years ago to advise pre-health professions students. Today, the office and the Health Professions Committee have a successful record of mentoring and supporting students in obtaining acceptance into professional schools — including medical, veterinary, dental, osteopathic, pharmacy and optometry schools.
McCarthy's widow, Martha, presented the awards to Bales and Brophy at the College of Natural Sciences and Mathematics 29th annual Awards Reception in May, and both also were recognized at the annual Honors Convocation.
During their studies, Bales and Brophy sought guidance and mentorship through the Health Professions Advising Office, led by Christina A. Goode, professor of chemistry and biochemistry, who serves as director of health professions.
"The advising office was extremely helpful throughout my time at Cal State Fullerton, especially in preparing me for the medical school application process," said Bales, who will be the first medical doctor in his family. "Dr. Goode is tireless; she assisted me with everything from editing my personal statement to giving me medical school advice. The staff worked with me to make the strongest application possible, and I'm sure I wouldn't have had the same success without them."
Brophy, who is considering specializing in neurology, agreed that the office was invaluable in giving him application advice, insider tips and opportunities to shadow medical professionals and conduct research. During the postbaccalaureate program, he performed social work for HIV/AIDS patients, cared for hospice patients, tutored his peers in statistics and science courses, and served as a teaching assistant for organic chemistry and biochemistry.
In 2008, Brophy graduated cum laude with a B.A. in psychology from Whitman College in Washington. He received honors for his senior thesis, which focused on the effects of Facebook profiles on interpersonal social cognition and perception.
As a CSUF undergraduate, Bales worked in the labs of Chandra Srinivasan, associate professor of chemistry and biochemistry, and Alison Miyamoto, assistant professor of biological science. He was selected as a scholar in the Bridges to Stem Cell Research, a 14-month program that focuses on stem cell research, coordinated by Nilay Patel, assistant professor of biological science.
While in the Bridges program, Bales completed a seven-month research internship at Children's Hospital of Orange County and studied the effects of stem cell transplantation relating to metabolic disorders. During his undergraduate years, he volunteered at St. Mary Medical Center in Long Beach and served as the department coordinator for the Neonatal Intensive Care Unit, where he trained and supervised volunteers.
"I'm very thankful for the amount of individual attention that I received at Cal State Fullerton and feel that this is the biggest strength of the school. The research opportunities were especially first-rate, and I was lucky enough to have access to some great mentors and professors," said Bales, who is considering pursuing neonatal medicine.
"My mentors were always available for one-on-one sessions to help me plan, perform and analyze my research. I was always confident that my teachers really wanted me to succeed — and that they would do anything in their power to help me achieve my goals."