Trading Lab Coat for Scrubs
Cal State Fullerton Honors Future Physician for Service, Academics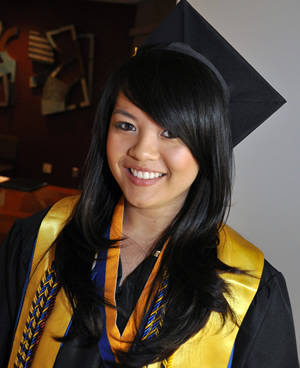 Annie Nguyen plans to become a doctor. Photo by Patrick O'Donnell
Biochemistry graduate Annie Nguyen's days are a whirlwind. A top scholar, also busy in community activities, she is focused on becoming a doctor.
The Westminster resident is this year's recipient of the Miles D. McCarthy Health Professions Award, one of the top student achievement awards presented to a graduating student from Cal State Fullerton.
"Annie was an obvious choice for this award. Her excellent academic and research achievements coupled with her clinical and community activities made her the perfect McCarthy award nominee," said Christina A. Goode, professor of chemistry and biochemistry and coordinator of the Health Professions Program that assists students seeking entry to medical and other health profession schools.
While attending Cal State Fullerton, Nguyen has chaired the American Cancer Society's 2009 Relay for Life Sponsorship group to raise funds, organized food drives and fundraisers through the National Society of Collegiate Scholars, and helped children develop their artistic talents through the Thai-Lao Mission Church. She's also volunteered more than 1,100 hours at St. Mary Medical Center in Long Beach.
"Growing up, medical offices and hospitals were not unfamiliar. Health problems plagued my family," Nguyen said. "What I saw is through it all, at least one person in each of my family members' lives worked constantly to restore their health: their physician. Now I am driven to help those who suffer."
Nguyen, who has a 3.92 grade-point average, has studied with Maria Linder, chair and professor of chemistry and biochemistry, how iron is transported in liver cells; received a National Science Foundation-Research Experiences for Undergraduates program stipend to support her research; and garnered the Doris A. Howell-California State University Program for Education in Research and Biotechnology Award — an honor that fosters the development of young investigators.
Last summer, Nguyen went to Yale University School of Medicine to study West Nile and dengue viruses. A Howard Hughes Medical Institute Exceptional Research Opportunities Program stipend funded her endeavor. Linder is closely affiliated with HHMI, overseeing the campus program to recruit, mentor and support talented student researchers.
"Dr. Linder and so many others at Cal State Fullerton were constantly there for me, making things possible, opening doors. They helped me lay my foundation," Nguyen said.
"I accepted Annie into my lab early in her undergraduate career because I was impressed with her enthusiasm and intelligence," Linder recalled. "She has developed into a highly accomplished and capable young woman, performing at the highest level academically, and powering through some hardship to get there. I did my doctoral work at Harvard Medical School and I'm so glad she'll be going there, too. It will be a portal to a bigger world."
Since 2008, Nguyen served as a student assistant in the Science, Technology, Engineering and Mathematics Transfer Student Services Program. "I was highly interested in a program that promotes student success as this one does. I can contribute ideas on program development and can organize workshops. And I've learned from other students' life experiences."
Nguyen also chairs the chemistry course section of the Student Science Alliance, which promotes interest in all science courses.
The pursuit of medicine and service is not new, the future doctor said. "The suffering and death of my grandpa and dad grounded my ambitions in the least ideal way, but those roots continue to grow. Their spirits come alive whenever I see someone in need."
The Miles D. McCarthy Health Professions Award is named for the late founding faculty member who was the architect of the university's acclaimed Health Professions Program. The award is presented annually to the outstanding health professions student who demonstrates high academic achievement and integrity, as well as a commitment to serve humanity.