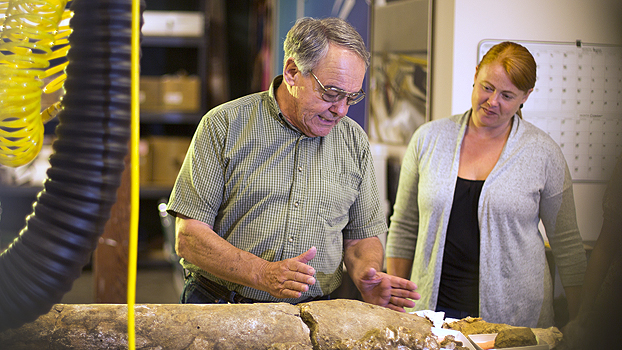 Caption: Jere Lipps, director of the John D. Cooper Center, works with Jeannine Pedersen, the center's curator of archaeology. Photo: Matt Gush Download Photo
Partnering With OC's Cooper Center
Deciphering Southern California's Earliest Fossils and Artifacts
July 17, 2012
Working under bright florescent lights, students and volunteers mold impressions of ancient sea mammals, analyze fossils, study stones shaped for use by Southern California's earliest, non-nomadic inhabitants, and build online content for public education programs about Orange County's archaeological and paleontological history thousands, if not millions, of years ago.
At the John D. Cooper Archaeological and Paleontological Center, Director Jere Lipps, assisted by curators Meredith Rivin (paleontology) and Jeannine Pedersen (archaeology), oversees the curation and research of the county's vast collection of prehistoric fossils, sherds of pottery, projectiles, tools and more.
At the center, through a partnership with the County of Orange and Cal State Fullerton, faculty members and students have begun the long process of uncovering the secrets of the region's history.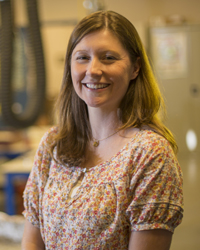 Caption: Meredith Rivin, Cooper Center curator of paleontology. Download
Located in Santa Ana, the center welcomes educators, students, archaeologists, paleontologists, geologists and volunteers interested in Orange County and neighboring regions.
"There's a great deal of interest in the center and what we're doing," said Lipps. "We currently have a waiting list for volunteers because so many people care about our collection and want to help."
Current volunteers represent many different backgrounds and levels of experience. The youngest volunteer is 12; the oldest is 74.
"We tease Richard, a retired dentist and our oldest volunteer," Lipps noted. "We tell him he just wants to look at all the fossil teeth."
Others in the lab include CSUF graduate students, high school and community college interns, a boy scout working on his merit badges, and volunteers from the community.
To reach beyond the doors of the center itself, staff members are developing a variety of outreach programs for schools, community groups and retirement communities, as well as collaborations with groups such as the Pacific Marine Mammal Center, Santa Ana Zoo and Orange County Parks.
"We are reconstructing an ancient sea lion and we know that would be of interest to the Marine Mammal Center," said Rivin, curator of paleontology, who cites the Fullerton Museum and the Old County Courthouse as other recent partners.
 "We are constantly looking for new venues to bring Orange County's past to additional audiences," explains Rivin.
"Our goal is to bring archeology and paleontology to our fellow citizens and help children and adults to develop an interest in these fields," said Lipps.
Wide Range of Material
Tens of thousands of artifacts and fossils are in storage waiting to be curated, their meaning understood and placed in some archaeological or paleontological context. 
"What the collection has told us so far," according to Pedersen, curator of archaeology, "is that the Native Americans of Orange County were experts in their natural environment, with sophisticated settlement patterns and cultural practices."
"There is also a mystery to this collection," Pedersen explains: "the cog stones. Nobody is quite sure what they were used for although there is speculation they may have been used in ceremonies or games."
Paleontologically, the county's fossils tell the stories of ancient sea-dwelling species, including several new species of whales and other species that were extinct elsewhere in the world.
"Essentially, we are advocates for the importance of the preservation of Orange County's scientific heritage," Lipps concluded. "One of our goals is to get people excited about these findings and increase interest in the collection, in where they live, and in these scientific fields, if not science in general."