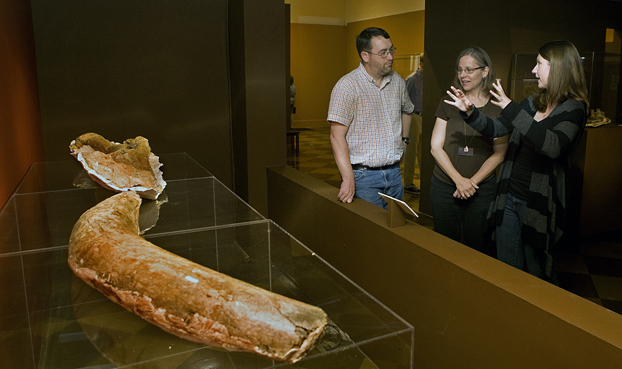 Caption: David D. Bowman, chair and professor of geological sciences, left, Aimee Aul, Fullerton Museum educator, and Meredith Rivin, a Cooper Center project curator, discuss a Columbian mammoth tusk and femur on display at the Fullerton Museum Center. Photo by Greg AndersenDownload Photo
Digging the New Exhibit
Fossils Curated by CSUF on Display at Fullerton Museum Center
An 11,000-year-old Columbian mammoth tusk, the skull of an ancient whale and a 10- to 15-million-year-old fur seal skeleton are a few of Orange County's artifacts on display through May 8 at the Fullerton Museum Center.
The pieces, part of the center's "Before Fullerton: The Prehistory of North Orange County" exhibit, are examples of the county's fossils that Cal State Fullerton has been curating and preserving as part of its Cooper Center project.
For nearly four decades, the County of Orange has collected hundreds of thousands of artifacts, specimens and objects associated with archaeological and paleontological investigations throughout the county. In 2009, Cal State Fullerton assumed day-to-day management and curation of the county's Archaeological/Paleontological Collection through 2013.
The collection is housed at the Cooper Center in Santa Ana, an archaeological and paleontological facility owned by Orange County Parks. Currently under renovation to enhance curation work, the center is named in honor of the late John D. Cooper, emeritus professor of geological sciences, who was dedicated to preserving the collection.
The university's archaeological and paleontological teams and volunteers have been studying and preparing the items for public display, said Meredith Rivin, a project curator. The Fullerton Museum exhibit is their first public showing, she said.
The work being conducted reflects Cal State Fullerton's heightened emphasis on maintaining and showcasing Orange County's history — one of seven universitywide initiatives for 2010-11.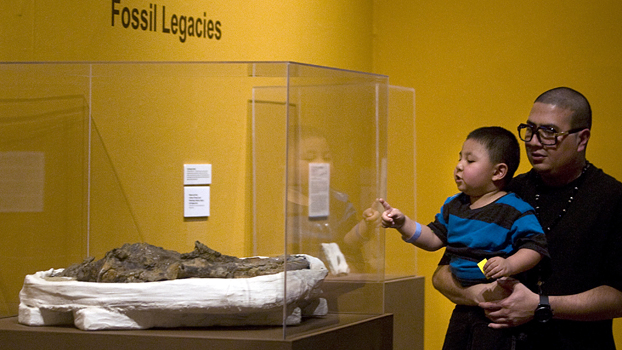 Caption: Fullerton residents Lila Minero, 4, and Abrew Minero, view a whale skull at the Fullerton Museum Saturday. Photo by Greg AndersenDownload Photo
Feb. 17, 2011