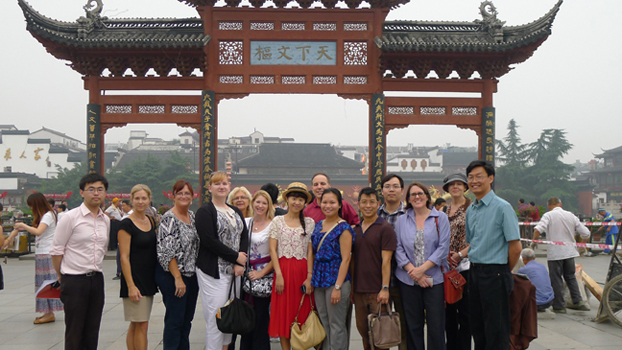 Caption: The CSUF contingent stand near the Confucius Temple by Qin Huai River in Nanjing. Photo: Lawrence Yun
International Experiences
Campus Members Learn From Chinese Counterparts
Aug. 1, 2012
A delegation of 14 faculty, staff and administrators recently returned from a 10-day "China Seminar" in which they visited their educational counterparts from five universities throughout China.
Known formerly as the Fudan University Seminar, this year's program was expanded to include visits to Beijing, Shanghai and Nanjing Normal universities — institutions that educate future teachers. These were in addition to the usual stops at Fudan and Southeast universities.
"CSUF's strategic plan includes the goal of attracting a more diverse faculty, staff and student body. An important part — though by no means all — of this effort will be to 'internationalize' the campus," said Jennifer Faust, associate vice president for academic affairs, who led the delegation. Lisa Xue, director of international programs Asia and international outreach, University Extended Education, organized the 10-day trip.
Cal State Fullerton has partnership agreements with more than 80 universities, colleges and government/private business institutions around the world. Such arrangements involve faculty collaborations on research and projects, faculty and student exchanges and/or degree and certificate offerings. The largest number of agreements and the oldest partnerships are with Chinese universities.
"We would like to move the effort a few steps forward, to more deeply embed our international ties in the curriculum," said Faust. "One way in which we can achieve this is to have more interactions between our faculty and their international peers. We hope to provide our faculty with more opportunities to work with their contemporaries in other countries, so that they can both learn what other researchers are working on and more widely disseminate their work. Another way is to host more visiting scholars from other universities. Those visitors will share their work with our faculty and students, thus enriching our programs."
About the 10-day trip to China, Faust noted: "Our exchanges yielded some very fruitful avenues to pursue, such as the possibility of hosting Chinese faculty as visiting scholars, creating faculty-led summer programs on the campuses we visited, two-way student exchange programs and, potentially, dual degree programs."
Participants participated in seminar discussions on teaching and higher education issues in China, foreign policy, urban growth, population management, economic transformations and cultural arts. In addition to exchanges with their peers, CSUF faculty members also delivered presentations to faculty and students at all five universities.
Opening China to American Students
Kathryn Morrissey of the university's Office of International Education and Exchange had a very specific reason for joining the delegation. The study abroad adviser had heard President Barack Obama announcing the 100,000 Strong Initiative, a national effort designed to increase the number and diversify the composition of American students studying in China. "I wanted to really understand the Chinese educational system and what our students could expect when they got there to study," she explained. "It was eye-opening.
"I was interested in seeing the process for admittance and what was available for visiting students, so that I could share that with our students," she added. "China does not automatically come to mind when our students think about study abroad. Now that I have traveled there, I can share my experiences with them."
Morrissey said that there is much interest in establishing partnerships to increase the number of students going to China to broaden their educational experiences. "I've already had follow-up communication with those I met to get something going for next summer."
Beyond the long-established partnerships CSUF has with various universities in China, other arrangements provide additional opportunities, she pointed out.
This fall, 22 CSUF students will be studying in China, Taiwan, Japan, Republic of Korea and Thailand, including two recipients of California State University Wang Family Scholarships, established by former CSU Trustee Stanley Wang and his family to "provide students with an opportunity to learn in an international environment and another culture."
"Some universities have quite a bit to offer," Morrissey said. "It used to be you had to know the languages and, obviously, we want students to take language courses while they are there. But with many of the universities having hundreds of English-speaking students studying on their campuses, they are offering more and more of their classes in English.
"I hope to see more of our students traveling to China in the coming year."
Education Exchange
"In addition to exploring potential agreements between campuses, we learned a great deal about Chinese culture and, in particular, higher education," said Faust. "It was exciting to see the ways in which we are the same and some in which we are different.
"For example, we learned that China struggles to train enough qualified teachers to staff all of their K-12 classrooms in their vast rural areas, especially in math and science education. That is a challenge in American schools as well."
One notable difference, said Faust, was the culture of accessibility to college. "Some university officials pointed out that the mission of American higher education — and the CSU in particular — is to provide access to as many students as possible. However, in Chinese universities, the admissions standards are quite stringent and only the top one percent of students — based on standardized testing — are admitted."
"There was high interest in the educational research we were doing and the real-world applications for such research," said Amy Cox-Peterson, professor of elementary and bilingual education and acting director of the Center for Careers in Teaching. She was one of four education faculty members on the trip. "My focus was on promoting STEM education — science, technology, engineering and math. ... how my counterparts motivated students to teach these subjects. A lot of my discussions were on how we teach teachers — how we use more inquiry-based teaching, rather than just going by the book."
"For me, because I provide training for university faculty and teachers (through University Extended Education's international programs), it was really good to see how higher education is conducted in China," said Victoria Costa, professor of elementary and bilingual education. Costa added that one meeting, in which educators from Fullerton and from Bejing Normal presented and discussed their research, was especially memorable.  "The professors there were really interested in the technology that we are integrating into our courses.
"I feel really blessed to have been able to go," Cox-Peterson added. "It was a great trip professionally and personally. I experienced diverse perspectives on the culture of their universities and the educational departments."
Artistic Opportunities
Lawrence Yun, professor of art, noted that the trip presented opportunities for interaction with fellow faculty, staff, administrators and students — something that he is hoping can be developed in the future. "During the trip, meeting representatives from my own discipline was especially rewarding. I was treated to tours of the art facilities and galleries; I conducted lectures and exchanged ideas with art faculty and administrators."
Yun pointed out that a meeting with an art professor at Beijing Normal University had an "inspiring and creative impact on the use of watercolor, the very same medium that I teach at Cal State Fullerton. His interpretation on the medium is very Eastern and figurative, yet his aesthetic is Western and contemporary. His unique approach brings a new level of a cross-cultural philosophical ideology to my teaching of art making, art criticism and aesthetic appreciation."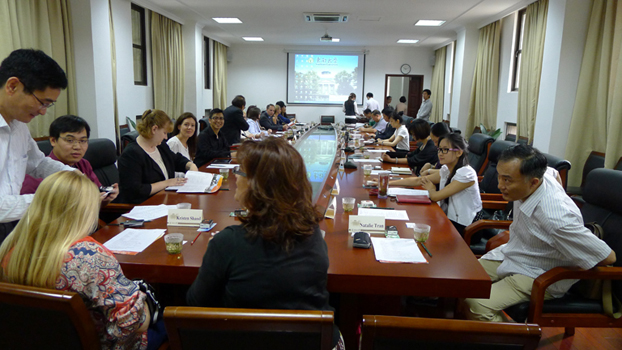 Caption: Cal State Fullerton and Southeast University faculty, staff and administrators gather around a table for a discussion during the CSUF China Seminar visit. Photo: Lawrence Yun