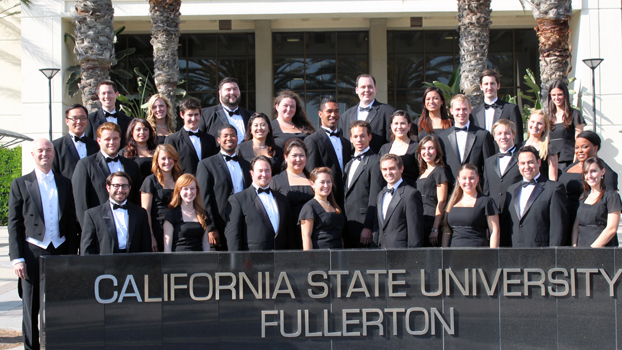 Caption: Cal State Fullerton's University Singers with their director, Robert Istad, associate professor of music, at far left. Download Image
Bon Voyage Concert Saturday
University Singers to Tour Europe June 19-30
June 14, 2012 :: No. 199
The CSUF University Singers will be touring Austria and Germany June 19-30 and headline the prestigious Ehinger Summer Music Festival in Germany June 29.
The choir also will share top billing at the June 30 Ottobeuren Summer Music Festival, where renowned conductors, including Leonard Bernstein, have performed for the past 60 years. Other groups performing at the festival include the Vienna Philharmonic Orchestra, the Berlin Radio Symphony Orchestra and Schleswig-Holstein Festival Choir.
"The CSUF Singers will perform a program that includes masterworks for unaccompanied chorus, such as Frank Martin's stunning 'Mass for Double Chorus' and Bach's 'Lobet den Herrn, alle Heiden, BMV230,' in addition to gorgeous arrangements of favorite American folk hymns, songs and African-American spirituals," said Robert Istad, associate professor of music and director of choral studies.
The tour's complete repertoire will be performed by the choir during a Bon Voyage Concert at 8 p.m. Saturday, June 16, in the university's Meng Concert Hall. Tickets are $10 and can be purchased at the door or in advance by calling 657-278-3459.
Throughout the tour, the choir will perform at a variety of churches that are frequent sites for choir concerts, due to their "excellent acoustics," said Istad. The churches on the choir's concert schedule include: Biedermannsdorf Parish Church near Vienna; Faistenau Parish Church in Faistenau; and Stadtpfarrkirche Maria Himmelfahrt, a Gothic church in Austria.
The University Singers is Cal State Fullerton's premiere collegiate choral ensemble. Each year, the undergraduates and graduate students who are members of the choir tour abroad and locally to perform with the likes of the Hollywood Bowl Orchestra, Los Angeles Philharmonic Orchestra and Boston Pops Esplande Orchestra, among others.
Media Contact: Paula Selleck, 657-278-4856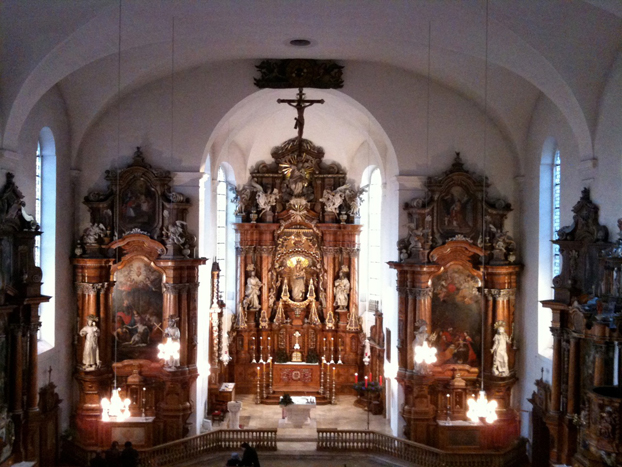 Caption: The Liebfrauenkirche, also known as Church of Our Dear Lady, is among the concert venues of the Ehingen Summer Music Festival, where the University Singers are performing June 29.