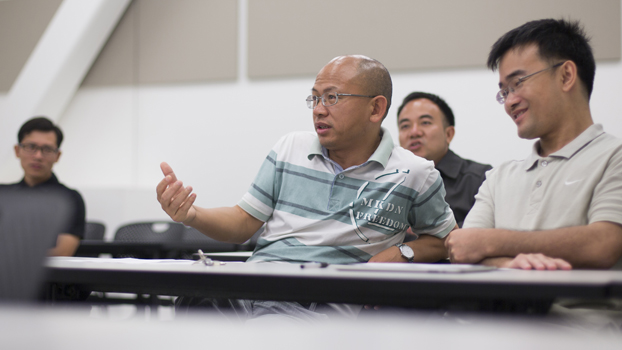 Caption: During a discussion on teaching, Guo Hua Deng of Jiangxi University of Finance and Economics, center, comments on the importance of an educator having passion for his subject, as well as the ability to explain subject matter to students in the classroom. Beside him is fellow associate professor Yi Gang Liao from Jiangxi's School of Accounting. Photo: Matt Gush Download 
International Observers
Program Assists Chinese Educators in English and Teaching
July 2, 2012 :: No. 1
Eight Chinese faculty members are taking classes at Cal State Fullerton to observe how American professors teach.
Two-thirds of the way through their six-month course of study that began here in February, the Chinese educators are seeking to expand both their skills and knowledge of the subject matter they teach at their own university.
Since 2009, groups of 24 faculty members from Jiangxi University of Finance and Economics have taken this academic journey to learn more about how their American counterparts teach and present information, as well as work to improve their proficiency in writing, speaking and leading a class in English. 


The program is offered through the Center for International Business, which is a part of Cal State Fullerton's Mihaylo College of Business and Economics. Another group of educators is expected to arrive in the fall.
The six-month Advanced Business Education Leadership Program provides these educators with the opportunity to: 

sit in on a course in one specific business concentration, such as finance, accounting, economics or management

practice their English in oral presentation and writing skills 
in a class specially designed for them, and
attend weekly seminars on topics in business, as well as teaching efficiency. 

During the program, the Jiangxi educators also prepare course outlines and development curriculum for a new course they will teach when they return to their institution, said Bruce Xiao, associate director of the Center for International Business. He is directing the leadership program.
Field trips to other educational institutions also are offered to give the Chinese educators a broad-based glimpse of the differences among public and private universities, research-oriented institutions and community colleges.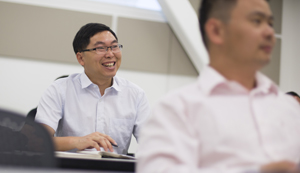 Caption: Dajin Yu smiles during a discussion about effective teaching and the role of humor in the classroom. Photo: Matt Gush Download Photo
Five of the Jiangxi University faculty members — all associate professors — recently discussed their CSUF experiences, saying they have received much support in their efforts.
"We have learned many teaching skills ... how to organize classes and presentation skills," said Guo Hua Deng, who teaches in the College of Finance and Statistics. "I will definitely use these skills in my own classes."
Bin Xu from the School of Business Administration agreed and commented on how much American educators seem to care about all of their students and their success. In American classrooms, "it's more interactive; students are more involved in class lectures and presentations," Xu said. "In China, I can offer that."
"Here, teachers guide their students," in the direction of answers and solutions, rather than just providing all the answers, said Dajin Yu, an educator in Jiangxi's School of Information Management. "In China, we give them everything."
Each of the Jiangxi participants are videotaped at the beginning and the end of the program, and their course outline is enclosed in a booklet. The materials will be sent to their home institution at the end of the program. A summary report also will be provided by Cal State Fullerton. 


"Our goal is to help our visitors in not only improving their English language skills — which are highly valued in their country — but also to help them understand American higher education," said Xiao. "By being on campus, they also share their teaching experiences with our faculty, thereby expanding our knowledge and skills, as well."
Media Contacts:
Bruce Xiao, CSUF Center for International Business, 657-278-8597
Pamela McLaren, 657-278-4852